Product reviews on KIWIreviews.co.nz : Monday 14th October 2019 - 19:11:05
Score:

9.5

/

10

[

2

reviews]


ProdID: 7160 - Shopping List


Developed by Orchard Toys
Price:

$29.99

Available:

Selected toy shops and online
Shopping List product reviews
BE the first to fill your trolley with all of the items on your shopping list, in our best selling memory game.

Contents:
4 trolleys
4 shopping lists
32 item cards
1 instruction leaflet

For 2 - 4 players,
Suitable for ages 3 -7
This Review: 9.5/10
Fun Factor:

Easy to Understand:

Price:

Personal Choice: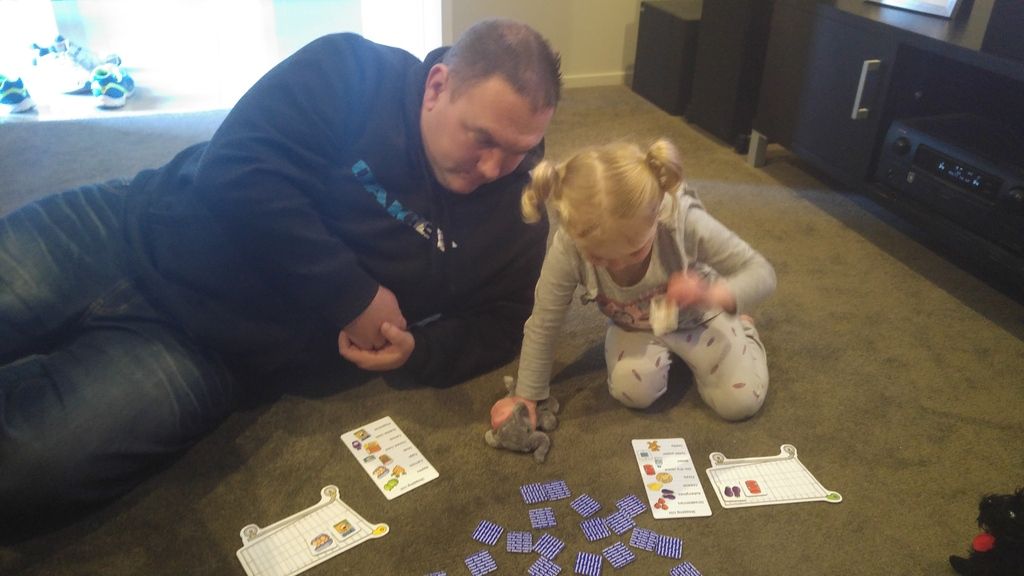 Having worked in Early Childhood Centres for over 10 years now, I have seen many games aimed at kids between the ages of 3 and 5, many of them have been awesome and the kids have loved while others have been terrible and have been hardly ever touched for this reason, most of this due to the fact that the children can not actually play these themselves and so it is left to the teachers to pretty much play the game for them. One of the games that the children have loved in many of the centres I have worked in is the shopping list game by orchard toys, it's always a hit!

The shopping list game consists of 4 cutout trolley shapes, 4 shopping lists which have 8 different pictures of types of food, drinks and miscellaneous items that you would find at a supermarket and 32 small item cards which feature pictures of the items which are found on the 4 shopping lists. Each person gets a shopping list and a trolley each and the item cards are then turned upside down and placed in the middle of where you are playing. The aim of the game is to fill your shopping trolley first by collecting all of the items on your shopping list.

This game is great for encouraging turn-taking, sharing, memory, and matching as children have to wait for their turn, watch carefully at where the other children place the food item that they may need and remember this for when their next turn comes around and match the item cards with the items on their shopping lists.

This game is a lot of fun and last Christmas I decided to buy this for my 3 year old as I thought it would be something she may enjoy, and that it would be a great first game for her to have, I was right she absolutely loves her shopping list game and often asks if we can play it with her, the concept of the game is pretty straight forward and so it hasn't taken her long to grasp the concept of what she needs to do, although of course with being a three year old there is always still a bit of cheating going on!

The pictures are clear and colorful and are all of things that children can easily relate to and name for example bread, strawberries, socks and teddy bears which makes the game even better and well suited to it's intended age group. A fantastic first game for young children both at home and in Early Childhood centres, which I recommend buying, Orchard Toys have recently released booster packs for this game so that you can now add in more players adding a whole new lot of food and items to be collected, something I will definitely be considering buying myself!
This Review: 9.5/10
Fun Factor:

Easy to Understand:

Price:

Personal Choice:
Being an early childhood teacher I am always on the lookout for games and resources that will help the tamariki in my care learn. I discovered this game at my last centre where it was a certain favourite of all the children. This game was often requested and I quickly lost count of the times we played it together!

This game consists of shopping lists, shopping carts and smaller cards with pictures of items on them. Each child picks a shopping list and a shopping cart to place all of their "purchases" in. The smaller cards are placed upside down in the middle of the table and the game begins. The children take turns to select a card, turn it over and find out if it matches an item on their shopping list. The aim of the game is to be the first one to fill their trolley with everything that is on the list.

This game is fantastic for teaching social skills that are required to participate in a group, especially turn taking. It also helps the tamariki to challenge their memory and matching skills and encourages them to listen to and follow the rules of a game.

Overall I would highly recommend this game for young children to play. It is certainly a favourite in the centre I worked in, the high number of requests for it showed me they loved it! Our only issue is that there were never enough shopping lists, trolleys and items for everyone to play together!
Random listing from 'Games & Puzzles'...
Product reviews for listing 1829: Junior Scrabble

Developed by Mattel
Level 1: Words and Pictures
- Younger children start the fun by linking letters on the board.
- The pictures help to turn them into words.
- Complete a word, and collect a counter!

Level 2: Colours and Counters
- Older children enjoy making words all by themselves.
- In this simplified SCRABBLE ® game children cross words and try to reach the coloured squares.
- They ... more...
General Disclaimer...
All trademarks, images and copyrights on this site are owned by their respective companies.
KIWIreviews is an independent entity, part of the ePLURIBUS.nz Network. This is a free public forum presenting user opinions on selected products, and as such the views expressed do not necessarily reflect the opinion of KIWIreviews.co.nz and are protected under New Zealand law by the "Honest Opinion" clause of the Defamation Act of 1992. KIWIreviews accepts no liability for statements made on this site, under the assumption that they are the true and honest opinions of the individual posters. In most cases, prices and dates stated are approximate and should be considered as only guidelines.

"Computer games don't affect kids. I mean if Pac-Man affected us as kids, we'd all be running around in darkened rooms, munching magic pills and listening to repetitive electronic music."
Kristian Wilson, Nintendo, Inc, 1989