Product reviews on KIWIreviews.co.nz : Sunday 17th November 2019 - 13:55:52
Score:

9.6

/

10

[

2

reviews]


ProdID: 7163 - Marker Everything


Brand / Author: Klutz
Price:

$27.00

Sample/s Supplied by:




Available:

June 2016
Marker Everything product reviews
Design, Doodle and Decorate with Permanent Markers.

Make your mark with a rainbow of mini markers and this hands-on guide to drawing and doodling. Master more than 30 techniques, including making patterns, masking and tie-dying to bring a little colour into your world. Get your creative juices flowing with our 10 project ideas or dive right in with the two included fold-and-build 3D paper figurines. Mark our words, you're gonna love it!
This Review: 9.5/10
Value for Money:

Clear Instructions:

Clear Diagrams:

Personal Choice: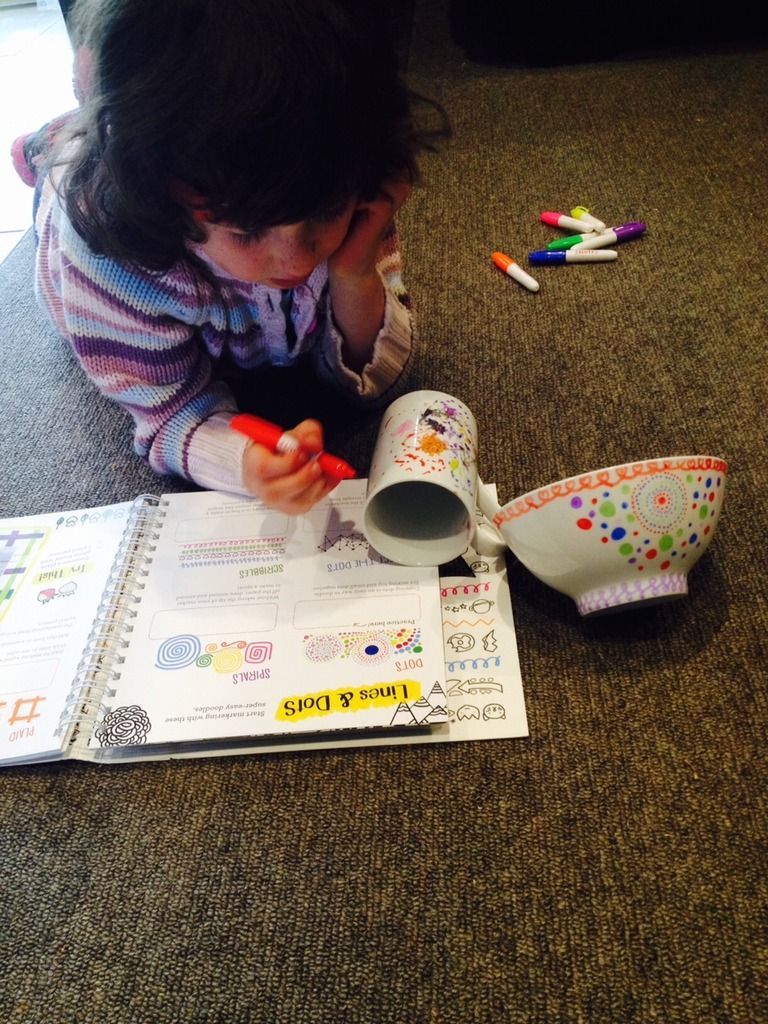 Klutz have so many cool sets in their range and they are constantly coming up with new ideas. Generally I find that the sets not only guide me through new ideas and skills, but also inspire me to be creative myself. When I got the latest Klutz set 'Marker Everything" in my hands, the big question was, would it be as good as the other products in the range?

The book comes with the markers required for the activities in the book. They are a lovely size for little hands to work with. Having said that, I found them fine to work with too. The markers are housed in their own little plastic case at the front of the set. This means that the felts can be returned to a safe place in the set once they have been used, this will help avoid loosing part of the set. I do like the idea that the book suggests using other markers to practice rather than using the ones with the kit. This allows the good markers to be reserved for the actual projects.

This kit doesn't have all the resources required to do the activities. The Klutz kits that I have previously used are usually self contained and don't need too many other resources to use them. This set only supplies the markers and the user has to find the other bits and pieces. I read that I needs rubbing alcohol for some of the projects. This brought me to a complete halt as I wanted to get in there and get creative. Some additional resources that you may need are: scrap paper, a pencil, other markers, blank surfaces to decorate (cup, bowl, picture frame, glasses, shoes, hat, t-shirt) masking tape and scissors. The tie-dying projects require a few extra resources such as rubbing alcohol, rubber bands, rubber gloves and an eyedropper. With this in mind, it isn't necessarily the best kit to buy on the way to a holiday with the expectation to be able to run through all the projects without the additional items.

The first thing I did with the kit was to play with my children doodling on paper with standard felt tip pens. They loved it and thought that we were in an art class. Miss Four and Mr Six had fun trying to create the various doodles in the book. A bit of frustration did come with this from Miss Four, who is still gaining control of drawing and writing instruments. After a while, she started to accept her skill level and started to enjoy it and attempt to copy some of the patterns and doodles. She enjoyed it when I gave her a blank cup to try out some of the doodles on it. Although the finished product doesn't necessarily show the actual dots, lines, doodles etc, I watched her carefully following the ideas in the book and know that it was very successful for her. Mr Six, who has better control of his pen now, was able to make reasonable attempts to recreate the doodles in the book. The book is aimed at children 8+, however I was very happy to use the book with my younger children with some parental guidance. I am sure that slightly older children would love to simply follow through the activities independently.

I teach art and craft classes with children and I am always looking for new ideas for my activities. I currently teach fabric art and clay classes and I can see that there are ideas from this 'Marker Everything' set that I will be able to use in my classes. In both classes we use lots of patterning and this set helps the reader to develop patterning and doodling skills. The book covers a variety of patterns, doodles, colours, how to change the thickness of a marker line, lines and dots, working with shapes to create interesting patterns and shapes, combining these elements to create fun patterns, 3d lines, shading, dimensional drawing.

The children and I have enjoyed playing with the ideas in this book. I think that our children would be likely to revisit the book over time to help them develop basic drawing skills and ideas.
This Review: 9.8/10
Value for Money:

Clear Instructions:

Clear Diagrams:

Personal Choice:
I was very pleased to receive this Klutz Marker Everything during the school holidays so me and my children could experiment with it and complete the activities in the book. The possibilities are endless! The book is displayed in a fun and intriguing way! This includes 8 Permanent mini markers, 2 punch out figurines, 10 step by step projects and over 30 techniques and tips!! It is certainly great value.

With Fathers Day approaching Miss 10 wanted to first decorate a photo frame with patterns she had been practicing from the Marker Everything book, this turned out great. All of the projects look like great fun but we did not have everything available so for now we have stuck to the ones that we have all the supplies for such as "Pattern Play" which involved decorating a coffee mug with the supplied permanent markers. We also completed the "Fab Folder" project which meant creating a personalised cover for a folder. All the instructions are very well set out, easy to read and follow and simple for kids.

I love that the Marker Everything has brought out a creative side in my Miss 10, she has decorated flower pots, tins to keep her pencils in and even storage for her shopkins!! The possibilities truly are endless with this book it would make a wonderful gift for any creative child. We plan to try the Tie Dyeing activities some time soon!
Random listing from 'Books'...
Product reviews for listing 4744: Things That Go!

Author: James Buckley Jr
Things That Go! is a Level 1 Reader (ages 4-6) packed with key facts, vivid diagrams, exciting photographs and simple sentences to explain it all. This Reader reviews everything from bicycles and scooters to jets and rockets - perfect for early readers who like everything that goes vroom! Comes with free digital book featuring extra content, games and activities, plus audio and video enhancements.
General Disclaimer...
All trademarks, images and copyrights on this site are owned by their respective companies.
KIWIreviews is an independent entity, part of the ePLURIBUS.nz Network. This is a free public forum presenting user opinions on selected products, and as such the views expressed do not necessarily reflect the opinion of KIWIreviews.co.nz and are protected under New Zealand law by the "Honest Opinion" clause of the Defamation Act of 1992. KIWIreviews accepts no liability for statements made on this site, under the assumption that they are the true and honest opinions of the individual posters. In most cases, prices and dates stated are approximate and should be considered as only guidelines.

"It is a curious thing... that every creed promises a paradise which will be absolutely uninhabitable for anyone of civilized taste."
Evelyn Waugh (1903 - 1966)