Product reviews on KIWIreviews.co.nz : Sunday 28th May 2017 - 05:42:19
Advertising...

Sick of adverts? Click here to join up for free and be rid of them.
Score:

8.4

/

10

[

2

reviews]


ProdID: 7545 - Get Real Food Tomato Sauce


Produced by Get Real Food
Price:

tbc

Supplied by:




Available:

at selected leading supermarkets

Samples for Review:
Get Real Food Tomato Sauce product reviews
Our tomato sauce is free from refined sugar and preservatives, with a whole lot of good stuff.

Made with NZ-grown tomatoes and pumpkin, then sweetened naturally with dates and apple juice, this sauce is a hit with the whole family.

Ingredients: New Zealand Tomatoes (30%), Water, Pumpkin (24%), Cider Vinegar (Brewed from apple cider), Apple Juice, Dates, Onion , Sea Salt, Spice, Garlic, Herbs.
This Review: 9.3/10
Taste:

Value for Money:

Number of Uses:

Personal Choice: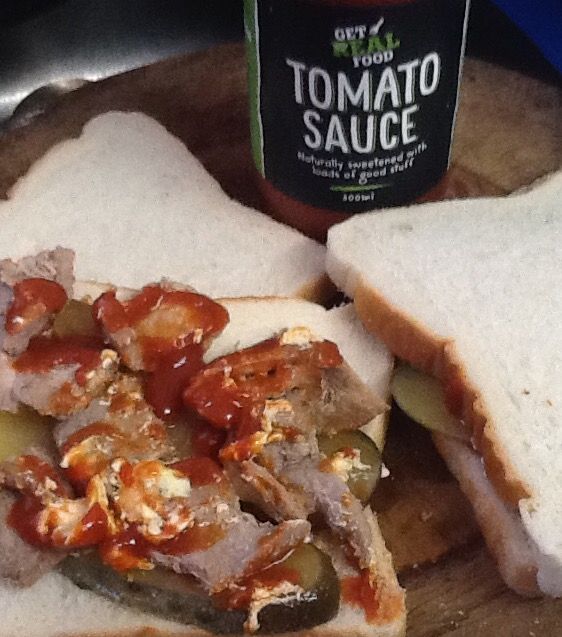 I don't like bottled tomato sauce as a rule. The chemicals almost walk out of the bottle to meet you, and I shudder to imagine what they do once they reach your insides. However, when I was asked if I would like to review this one, I was intrigued to see that the main ingredients (other than water) were tomatoes and pumpkin. That's more like it! And not a cryptically named food preservative in sight.

So I agreed to try it - and am I glad I did! What a great idea to add pumpkin to the mix. I am sure that, although I could not actually detect it as a separate ingredient, it was responsible for both the rich creaminess of the sauce and the bright colour. Home-made tomato sauce does taste good but it is often quite runny, so clearly the pumpkin is the magic ingredient here. And of course it is much easier than making your own. Been there, done that!

I tried it with a range of usual foods - schnitzel and sausages (of course!) from the barbecue - and stirred into mayonnaise to make a thousand island dressing style dip. My visitors tried it with chips as well but that was a little too radical for me. However, the real winner was with a food I have not tried in years - but I thought it would work really well with the sauce so I was inspired to try it for lunch.

Many years ago, I lived in the East End of London (Stoke Newington) and there were some wonderful ethnic dishes, both fast food and restaurant style, to be had. One of my favourites was the hot salt beef sandwich sold at the local kosher deli. It was just the thing for a cold winter day: thick slices of bread with a filling of large chunks of salt beef, pickles, horseradish, and real tomato sauce. They made their own sauce and the beef was broiled on site and served hot. And one sandwich was enough for a meal.

My version was not exactly the same. My bread was thinner so I used less meat in case the filling all fell out! But the taste was just as I remembered. At this rate I don't think the bottle will last very long as I think I might be having the same for lunch tomorrow - there is plenty of meat left and a big jar of pickles. I can always get more bread!
This Review: 7.5/10
Taste:

Value for Money:

Number of Uses:

Personal Choice:
Tomato sauce is always a staple in our house, it's one of those thing's that we just can't go without, I tend to only use it on hot chips and sausages, whereas Miss 4 and my partner smoother it on almost anything! When I saw a new Get Real Foods tomato sauce up for review I thought it was well worth checking out, after all anything that you can serve up to your family to get more vegetables into their diets has got to be good right?

The bottle this sauce comes through is made from a see-through glass which is great as it allows you to see exactly what you are getting, my first initial thought was that it looked to be a lovely rich, red colour and of a nice thick consistency. The black label was stylish and it made the green and white lettering really POP and standout! Reading the label it is important to note that this product is made right here in New Zealand, and from all natural ingredients, no hidden colours, flavours or preservatives lurking in here. However you will find that tomatoes and pumpkin do infact make up for 55% of the total ingredients, which is pretty impressive. To create a sweeter flavour the ingredients also list dates and apple juice instead of using high ammounts of sugars like many sauces do.

After cooking up dinner sausages, chips and salad, I added a dollop of sauce to each of our plates for us to try, Miss 4 didn't seem to mind the sauce and happily ate it without any complaints, however my partner soon said he didn't like it and that it didn't taste like how a tomato should be. I didn't mind it myself nor did several friends of mine and there children who tried it, however we did all agree that perhaps it would better if a little less apple cider vinegar was used as this was quite over bearing. We also discussed how much vegetables our children were actualy getting from a smal portion of sauce coming from this bottle, was a small amount used for dunking chips in really worth buying the product?

Sadly this probably isn't a product that I would rush out and buy, I love the logic behind the hidden vegetables but I just don't feel it is worthwhile, the other suggestion I have is to perhaps make a squeezy cap for the sauce to come out of as it does tend to flow quite fast. This isn't my cup of tea, butif you are used to less sugar in your diet then I recommend trying it as you may just love it.
Random listing from 'Food'...
Product reviews for listing 6554: Crema ai 5 Formaggi

Brand - Calzetti
Cream of Five Cheeses.

Ingredients:
Gorgonzola DOP, Asiago DOP, Provolione Valpadana DOP, Parmigiano Reggiano DOP, Pecorino Sardo DOP, water, melting salt (Sodium Citrate).

Available exclusively from souschef.co.nz
General Disclaimer...
All trademarks, images and copyrights on this site are owned by their respective companies.
KIWIreviews is an independent entity, part of the ePLURIBUS.nz Network. This is a free public forum presenting user opinions on selected products, and as such the views expressed do not necessarily reflect the opinion of KIWIreviews.co.nz and are protected under New Zealand law by the "Honest Opinion" clause of the Defamation Act of 1992. KIWIreviews accepts no liability for statements made on this site, under the assumption that they are the true and honest opinions of the individual posters. In most cases, prices and dates stated are approximate and should be considered as only guidelines.

"I really have a secret satisfaction in being considered rather mad."
W. Heath Robinson (1872 - 1944)