Product reviews on KIWIreviews.co.nz : Friday 28th February 2020 - 19:12:31
Score:

10.0

/

10

[

1

review]


ProdID: 7484 - Klutz Junior: My Clay Critters


Brand: Klutz
Price:

$22.99

Sample/s Supplied by:




Available:

March 2017
Klutz Junior: My Clay Critters product reviews
Made especially for little hands learning fine motor skills, this book and craft kit is ready for kids to dive right in and make 10 adorable ocean critters.

The kit contains a 28-page instruction book, 6 sticks of air-dry clay in a variety of bright colours, 8 screw-on eyes, a custom clay shaping tool, and 49 colourful pre-cut shapes. With these items, kids can follow the simple step-by-step instructions to create their own underwater adventures.
This Review: 10/10
Effectiveness:

Age Appropriate:

Ease of Use:

Personal Choice: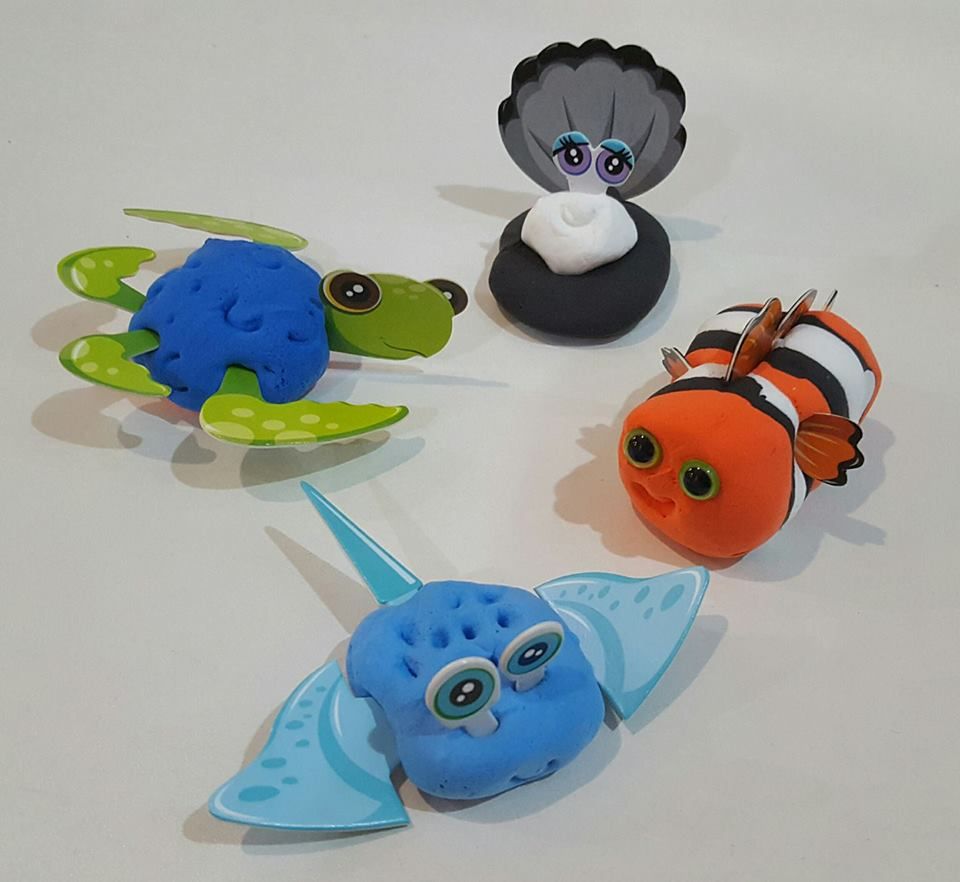 Being an early childhood teacher I am always on the hunt for resources that can be used to contribute towards the learning of the tamariki at my centre. When I saw this set from Scholastic up for review I just had to request it. I was excited to receive it and decided when I would use it. As it is for ages 4 and up I decided to wait until I was on a late shift as the children that we have left at the end of the day are all 4 years old.

The night I decided to use it I had four tamariki left. We gathered together around the table to unpack the box. "What's that Kelly?" the tamariki kept asking. As I pulled out each part of the box I explained to them what it was. They were fascinated mostly by the clay, and were excited about the sea creatures. Deciding how best to do it we decided together it was best to take turns. Each child picked the sea creature they wanted to make (after I explained that there was enough to make one of each of the ten creatures) and we prepped a piece of cardboard to put our creations on once we had made them.

The instructions on the book were very clear and made it so easy. I loved that it showed the size of ball the clay needed to be as this means we shouldn't run out of clay before we have made one of each creature. It also clearly showed each of the steps that needed to be carried out, and pictured all of the cardboard pieces that needed to be put on. The tamariki named each of the colours we needed for each creature and I pulled off enough to make the size ball that was needed. The tamariki each did the rest of the steps for their own creatures. As I pointed to the picture I read the words so that they could understand just what to do. All of the four creatures we made involved rolling a ball and then squashing it before adding in extra pieces. The clown fish had the most steps as it required 9 different balls of clay, but at no point did any of the tamariki struggle with what they had to do. This led me to believe that if they had been left to their own devices, they would certainly be able to create these creatures by themselves by following the very clear pictures.

I have never made anything with 'air-dry clay' before, and I must say I quite liked it! It wasn't like clay at all, and provided a really nice sensory experience! It felt similar to putty but was not sticky at all. When it dried our creatures were still soft and spongy, but definitely held their own shape. The tamariki were so excited to be able to take their creations home the next day once they had been left overnight to dry.

Thank you Scholastic for such an awesome product. The only negative I had to reviewing this product is that some of our parents wanted to know where to purchase a kit for their tamariki to use at home. Upon contacting Scholastic we were told this was in the last catalogue so we weren't able to purchase it through them right now. Thankfully it is coming up again at the end of July, but just a shame that our parents who want to purchase it now will have to go elsewhere to purchase it and our centre will miss out on the benefits we get from selling Scholastic books through our catalogues.
Random listing from 'Arts and Crafts'...
Product reviews for listing 4478: Klutz Potholders and other Loopy Projects -
Brand / Manufacturer : Klutz
At last, the classic weaving loom gets a long-overdue infusion of imagination, ingenuity and fun. This book comes with a sturdy red loom and oodles of colorful, stretchy cotton-blend loops.

Made especially for us, these loops are ideal for all kinds of woven projects. Follow the step-by-loopy-step instructions to weave up a purse, a picture frame, a mighty cute chicken and more.

Comes With: plastic loom, oodles of ... more...
General Disclaimer...
All trademarks, images and copyrights on this site are owned by their respective companies.
KIWIreviews is an independent entity, part of the ePLURIBUS.nz Network. This is a free public forum presenting user opinions on selected products, and as such the views expressed do not necessarily reflect the opinion of KIWIreviews.co.nz and are protected under New Zealand law by the "Honest Opinion" clause of the Defamation Act of 1992. KIWIreviews accepts no liability for statements made on this site, under the assumption that they are the true and honest opinions of the individual posters. In most cases, prices and dates stated are approximate and should be considered as only guidelines.

"Political language... is designed to make lies sound truthful and murder respectable, and to give an appearance of solidity to pure wind."
George Orwell (1903 - 1950)