Product reviews on KIWIreviews.co.nz : Wednesday 26th April 2017 - 16:05:55
Advertising...

Sick of adverts? Click here to join up for free and be rid of them.
Score:

8.5

/

10

[

1

review]


ProdID: 7476 - LEGO Star Wars: The Official Stormtrooper Training Manual -

Author: Arie Kaplan
Price:

$16.99

Supplied by:




Available:

March 2017

Buy it:

Samples for Review:
LEGO Star Wars: The Official Stormtrooper Training Manual product reviews
Do you like adventure and excitement? Ever dream of exploring a galaxy far, far away? Would you like to capture rebel scum? Then this stormtrooper manual is for you! Explore the far reaches of the Empire with this advanced guide to the galaxy, and then test your skills in the activity book to see if you have what it takes to join the stormtroopers!

Included in your training manual are a guide book, an activity book, and a Stormtrooper miniature, all enclosed in a sturdy case with magnetic closure.
This Review: 8.5/10
Price:

Value for Money:

ReReadability:

Personal Choice: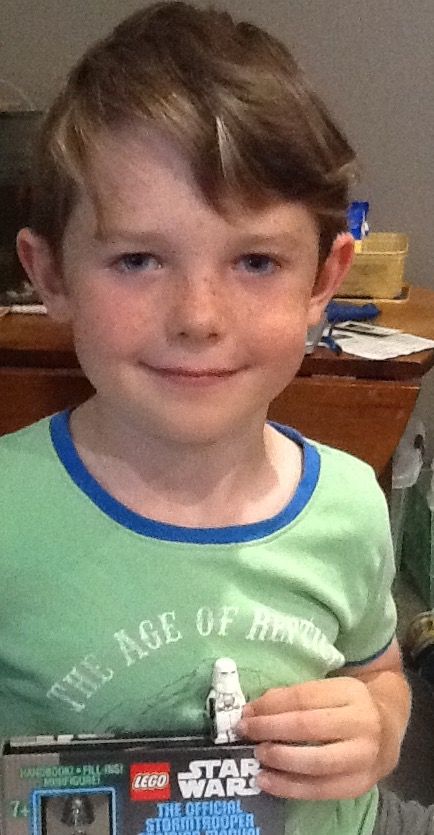 Mr Seven was delighted when I asked him if he would help me review this product. The LEGO miniature packaged in the cover caught his eye immediately, and he wanted to make it straight away. I thought that was a good choice as he is a confirmed LEGO fan so we unpacked it and he got to work while I checked out the cover design.

I was impressed by the sturdy appearance of the product. It looks like a book but has reinforced covers which are closed by magnetic strips inside the outer wrap, and which open out to display the contents. When not in use it can stand on a bookshelf alongside conventional books, a fact which is bound to increase its life expectancy among young children! Inside, there are two separate booklets - an activity book with fun puzzles and facts, and a "training manual" containing everything you ever need to know about Star Wars Stormtroopers. The pictures are attractively presented on high quality paper and include plenty of detail.

While I was checking out the format, Mr Seven was still trying to assemble the model. I was surprised that it was taking him so long as he is usually very quick at putting various LEGO pieces together, and the label stated clearly that it was designed for children seven years and over. He was getting frustrated and finally asked his father to assist. And to our surprise, Dad found it equally difficult. None of the pictures in the book was an exact match, and there was no instruction page included. After half an hour they had managed to put the figure together but there was still one piece left over - and none of us could work out exactly what it was or where it should go!

Mr Seven then settled down to read through the manual and try a couple of the activities. He found this part much easier - he enjoys reading and the words did not present a challenge in the same way as the model making had. He even tried out some of the riddles on us.

We decided that the product was good value overall, but all agreed that the inclusion of an instruction sheet would have improved it considerably. Mr Seven was disappointed that it took him so long to put the model together and his comment was that it might discourage other children from having a go. That would be a shame as the rest of the package is great.
Random listing from 'Books'...
Product reviews for listing 6656: Ricky Ricotta's Mighty Robot vs the Uranium Unicorns from Uranus -
Author: Dav Pilkey and Dan Santat
Ricky Ricotta loves his Mighty Robot, but sometimes it's hard having a best friend who is so BIG. If only his Mighty Robot had someone his own size to play with, Ricky could have some fun by himself.

Little does Ricky know, his wish is about to come true. Ugly Uncle Unicorn is hatching a hideous plan to take over Earth, and he has got a supersized surprise for Ricky and his robot friend
General Disclaimer...
All trademarks, images and copyrights on this site are owned by their respective companies.
KIWIreviews is an independent entity, part of the ePLURIBUS.nz Network. This is a free public forum presenting user opinions on selected products, and as such the views expressed do not necessarily reflect the opinion of KIWIreviews.co.nz and are protected under New Zealand law by the "Honest Opinion" clause of the Defamation Act of 1992. KIWIreviews accepts no liability for statements made on this site, under the assumption that they are the true and honest opinions of the individual posters. In most cases, prices and dates stated are approximate and should be considered as only guidelines.

"Ever notice that 'what the hell' is always the right decision?"
Marilyn Monroe (1926 - 1962)