Product reviews on KIWIreviews.co.nz : Wednesday 26th April 2017 - 16:01:18
Advertising...

Sick of adverts? Click here to join up for free and be rid of them.
Score:

9.5

/

10

[

1

review]


ProdID: 7472 - Earthwise Laundry Liquid - Black Wash


Brand / Manufactured by: Earthwise
Price:

$8.00

Supplied by:




Available:

March 2017

Samples for Review:
Earthwise Laundry Liquid - Black Wash product reviews
In the past, we've all been focused on getting our whites whiter, but now the Earthwise team have come out with a product to help your blacks stay blacker. So why have Earthwise developed this new product and how will it help?

Black Wash has been specially formulated for black and dark coloured clothing, so that means it has an extra gentle action to avoid stripping out coloured dyes. Black Wash also has no bleaching agents or optical whiteners but it does include a special ingredient called an anti-deposition agent.

An anti-deposition agent prevents light coloured soils, water hardener, or minerals (which tend to be white-ish in colour) being deposited on fabrics, giving the impression of greying or colour fade. Clever stuff!

Earthwise Black Wash is grey water and septic tank safe. It contains biodegradable surfectants.
This Review: 9.5/10
Price:

Value for Money:

Effectiveness:

Personal Choice: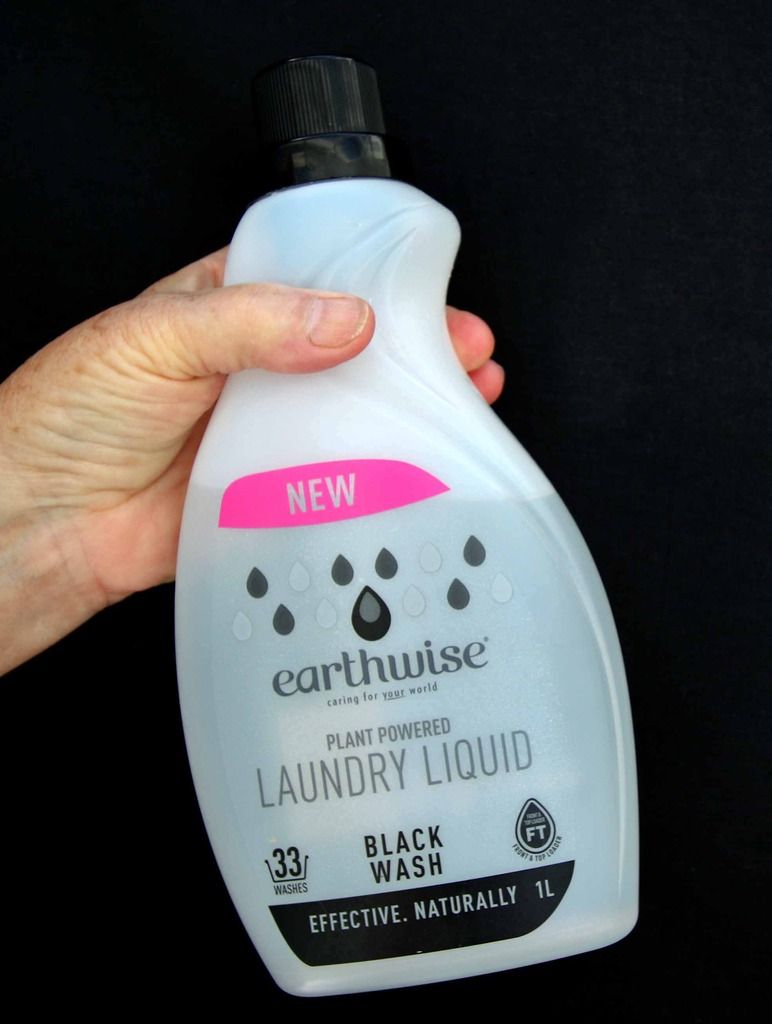 What a wonderful idea! I have many more black and dark coloured garments than whites or pastels, and fading and streaking is often an issue with ordinary washing powders and liquids - even the "better" brands - and believe me, I have tried most of them. Apart from clothing, I also have several sets of dark coloured sheets (black included) and some dark cushion covers which need frequent washing as the cats insist on sitting on them and decorating them with discarded fur.

I have seen "Black Wash" advertised but never knew exactly what it was until I was given this one to review. I was out of washing powder so made the decision to try it, not just on the darker items, but also on the lighter ones as I figured it would not hurt them. I had three wash loads to do: one whites, one darks, and one mixed colours. I was taken by the smell as I added the liquid to the first load. It reminded me of that elusive scent of freshly washed laundry that you get in hospitals and hotels - the clean, woodsy, no frills effect that engenders confidence that the linen is going to be really clean. No artificial smells as far as I could tell; just honest freshness that you feel you can trust.

The first load was the whites. I checked for streaking and detergent residue but could not fault the items. I have a cold wash only machine - and the label actually specifies that a cold wash is best - so it is important that the rinse cycle works properly with the detergent. The second load, the mixed colours, was just as successful with the added bonus that the muddy socks emerged beautifully clean. And then the test load - two black sheets, a black t-shirt, and a navy shirt. They emerged perfectly clean much to my delight. I tried to take a photo, but the black sheet was so black that you could not actually tell what it was!

I would suggest one slight improvement on the packaging. The quantity to use is shown in the form of a graphic, but it is very small and the dosage in ml is printed on a shaded area - difficult to see if you are visually challenged or if (as I was) you are working in an outside washhouse with dim lighting. The size of the pack should make it easy to include a bigger graphic as there is plenty of room to put it. The first time I used the detergent I had to take an educated guess as to the quantity needed. I was right, but it was more by luck than by anything else.

Although the price of this product is in the medium range, it is good value. Buying cheap can mean you end up with an inferior product which can just end up costing you more. However, I will probably purchase a normal Earthwise laundry detergent for my lighter coloured washing and save the Black Wash for the purpose it was intended for. It is reassuring to see that all the Earthwise detergents are grey water and septic tank friendly because my washing machine empties into an old fashioned country soakaway, not a piped drain, so it means I am not polluting my own land.
Random listing from 'Hygiene Products'...
Product reviews for listing 2852: Rug Doctor

Brand / Manufactured by: Rug Doctor (NZ)
Easy to use. Easy to hire. Easy on your budget!

Millions of home owners every year hire Rug Doctor carpet cleaners to clean their carpets and achieve professional-quality results at a fraction of the cost of hiring a service. They know the value of Rug Doctor:
• Powerful, easy to ... more...
General Disclaimer...
All trademarks, images and copyrights on this site are owned by their respective companies.
KIWIreviews is an independent entity, part of the ePLURIBUS.nz Network. This is a free public forum presenting user opinions on selected products, and as such the views expressed do not necessarily reflect the opinion of KIWIreviews.co.nz and are protected under New Zealand law by the "Honest Opinion" clause of the Defamation Act of 1992. KIWIreviews accepts no liability for statements made on this site, under the assumption that they are the true and honest opinions of the individual posters. In most cases, prices and dates stated are approximate and should be considered as only guidelines.

"Forgive your enemies but never forget their names."
John F. Kennedy (1917-1963)