Product reviews on KIWIreviews.co.nz : Saturday 27th May 2017 - 12:41:52
Advertising...

Sick of adverts? Click here to join up for free and be rid of them.
Score:

9.4

/

10

[

6

reviews]


ProdID: 7472 - Earthwise Laundry Liquid - Black Wash


Brand / Manufactured by: Earthwise
Price:

$8.00

Supplied by:




Available:

March 2017
Earthwise Laundry Liquid - Black Wash product reviews
In the past, we've all been focused on getting our whites whiter, but now the Earthwise team have come out with a product to help your blacks stay blacker. So why have Earthwise developed this new product and how will it help?

Black Wash has been specially formulated for black and dark coloured clothing, so that means it has an extra gentle action to avoid stripping out coloured dyes. Black Wash also has no bleaching agents or optical whiteners but it does include a special ingredient called an anti-deposition agent.

An anti-deposition agent prevents light coloured soils, water hardener, or minerals (which tend to be white-ish in colour) being deposited on fabrics, giving the impression of greying or colour fade. Clever stuff!

Earthwise Black Wash is grey water and septic tank safe. It contains biodegradable surfectants.
This Review: 9.3/10
Price:

Value for Money:

Effectiveness:

Personal Choice:
I have to admit that I wasn't convinced about this product when I first saw it. When I saw that it was available to be requested to review I jumped at the chance to try my luck. Upon receiving my box of goodies to review, I was pleasantly surprised to see the bottle of Earthwise Black Wash.

My eyes were drawn to the bottle by the contrasting of black writing and pictures on the light coloured bottle. The bottle also shows on the front label that this 1L bottle should do 33 washes, which means in my household it should last a fortnight which I feel is good value. At $8 for a litre it is more expensive than everyday liquid but I think that if it continues to provide good results then it is worth the cost. I opened the bottle and was pleased that it was easy to pour the liquid with no spillage. The liquid itself was a good consistency, not too thick and not too runny.

As a household that wears lots of black clothing I was keen to see if this worked as well as I had heard it did. My partner's work uniform is black and over time we have noticed it has now become that faded black/dark grey colour which is not ideal. My first load to try the Black Wash was for some black jeans and black shirts that had fluff and white marks from my partner's job. Usually when I use my normal liquid on clothes that have the white marks it seems to just stay on the clothes and I find myself either spot cleaning the marks or hand-washing the item again. I was pleasantly surprised to see when I hung the clothes on the line that this was not the case, they were in fact free of the white marks.

I am eagerly awaiting purchasing some more black clothing to see how long they stay black without fading using this product. Using this liquid has also made me consider using the Earthwise Oxygenated Whitener to see if I can get similar results from my whites.

I recommend the Earthwise Black Wash to anyone that wears lots of black or dark clothing, and wants to keep it looking like it's original state. Earthwise is a great choice in household cleaners as they are natural, something I am very aware of with my children. I believe that I will continue to use this and it will become a usual purchase when we do our groceries.
This review is awaiting approval by our moderators.
This Review: 9.3/10
Price:

Value for Money:

Effectiveness:

Personal Choice:
A two week period is a small amount of time to properly test a product that is meant to prevent colour fading over multiple washes, but I did the best that I could. In the image you will see two garments; a black singlet (on top) that I purchased at a concert recently that was been washed maybe three times since purchase, and a t-shirt (with the "X")I purchased last week and have washed three times since. The singlet was washed with another Earthwise product, the Eucalyptus and Orange Laundry Powder, whereas the t-shirt was washed with the Earthwise Black Wash Laundry Liquid.

Now, I am a lazy washer; the only things I separate are towels and other fluffy items, otherwise it all goes in the same load. Blacks, colours, and whites all get the same treatment. But as someone whose wardrobe is largely black (I go to a lot of rock concerts) it would be nice to have them last longer. The singlet after three washes has already shown significant fading when using the laundry powder, and now has more of a blue hue to the item. On the other hand, the t-shirt (while admitted in the photo looks very similar in colour) is still visibly darker. More testing is needed, but initial trials look positive that the product does reduce the level of fading (Note: the directions do recommend separating blacks from other coloured products, so results may have improved if I had done so, but that isn't how I do my washing due to the small amount I need to wash).

The product comes in a large 1L bottle that provides an average of 33 washes. For myself, that would add up to around 17 weeks worth of laundry, so $8 is great value. The liquid itself is clear and viscous. The viscous (thick) nature of the liquid does make me question the accuracy of the expected dosage in the directions, as when you pour it in, much of the 30-45ml remains in the top unless you wait for a while for it all to drip out one drip at a time.

Overall, it cleaned my soiled clothing, and seems to reduce fade in blacks. Requires small amounts per use, so very good value for money.
This Review: 10/10
Price:

Value for Money:

Effectiveness:

Personal Choice:
Washing is the literal story of my life with a teenager and a 5 year old as well as a trio of animals I am forever washing clothes. I must admit that I do love black clothing and my teenage daughter has very little in her wardrobe that isn't black. Besides from the black clothing we also have a lot of other dark colours like navy blues and dark grey/charcoal and wash fade does annoy me.

While seperating colours is a pain I love to keep my black clothes looking fresh and my white clothes looking clean. I have used Earthwise Oxygenated Whitener for a few years now for whites and anything that needs a bit of a deeper clean so this Black Wash is a perfect accompaniment for my laundry for my darker colours and I have loved using it. I have certainly noticed that my blacks are staying nice and dark.

I loved the fragrance and the ease of using the liquid over a powder alternative, the bottle is easy to pour and measure out in my front loader machine so I really found it handy to use. I have been washing all our darks in this liquid and find they are coming out nice and bright and clean. With two white dogs and a lot of black clothing dog hair is a constant feature of my clothing but after washing you would no longer be able to tell they were once coated in white fur.

I was impressed with the level of cleaning from this liquid and would use it regularly in my laundry to keep my darks looking dark. I find it is also good for my bright coloured clothes like reds and hot pinks which come out of the wash looking very bright in colour as lets face it sometimes you just don't have enough of each colour variety to do a black, a colour, and a white wash.

This Review: 10/10
Price:

Value for Money:

Effectiveness:

Personal Choice:
There is nothing worst then buying a brand new black jersey/top or pants and have them fade after a couple of washes. Especially, when it comes to my girls clothing, I find I am having to buy them new clothes every couple of months due to fading. Black is such a versatile colour and goes with anything - it is really annoying when it turns to an off black and you really can not wear them in public anymore, instead they become 'home clothes'. I have always 'meant' to buy a black wash to see if it will extend my clothing/s life and I am so glad I got the opportunity to explore this product.

I love the idea of having a black wash, so once I received it I have been separating my colours from my blacks/dark's/grey's and washing them separately in the wash. It is actually amazing how many black items we own as a family so was not hard getting full loads. Although, as time is not on my side it is rather hard to truly judge how successful this product really is all I can say is the clothes were all nice and clean, appeared to still be the rich black they began as and they smelt yummy actually I really like the smell that it carries. I find a lot of our black clothing requires hanging on my special line instead of throwing in the dryer so I am hoping maybe the combination of washing them in this liquid and hanging will help prolong their life some.

I found the packaging to be perfectly fine to read and I have to say I did find it rather funny how it was all black, grey or clear (besides the splash of pink) as to reconfirm there point. I found it eye grabbing and straight to the point. I also appreciate that it is for front and top loader washing machines, as we have a front washer sometimes we get excluded. Like all Earthwise products there is the spill about what they stand for and also that is is grey water and septic tank safe which makes you feel that much better for using it.

I don't mind the price at all, as it states that it should do about 33 washes which works out roughly around .24 cents a wash which to me sounds very reasonable. I have already used it about six times in the period I have had it so it has been very handy. I am keen to see how the jerseys I have only recently purchased last with this laundry liquid and will depend on the richness of the colour as to if I will continue to buy. At this stage I can confirm I am impressed.


This Review: 9.5/10
Price:

Value for Money:

Effectiveness:

Personal Choice: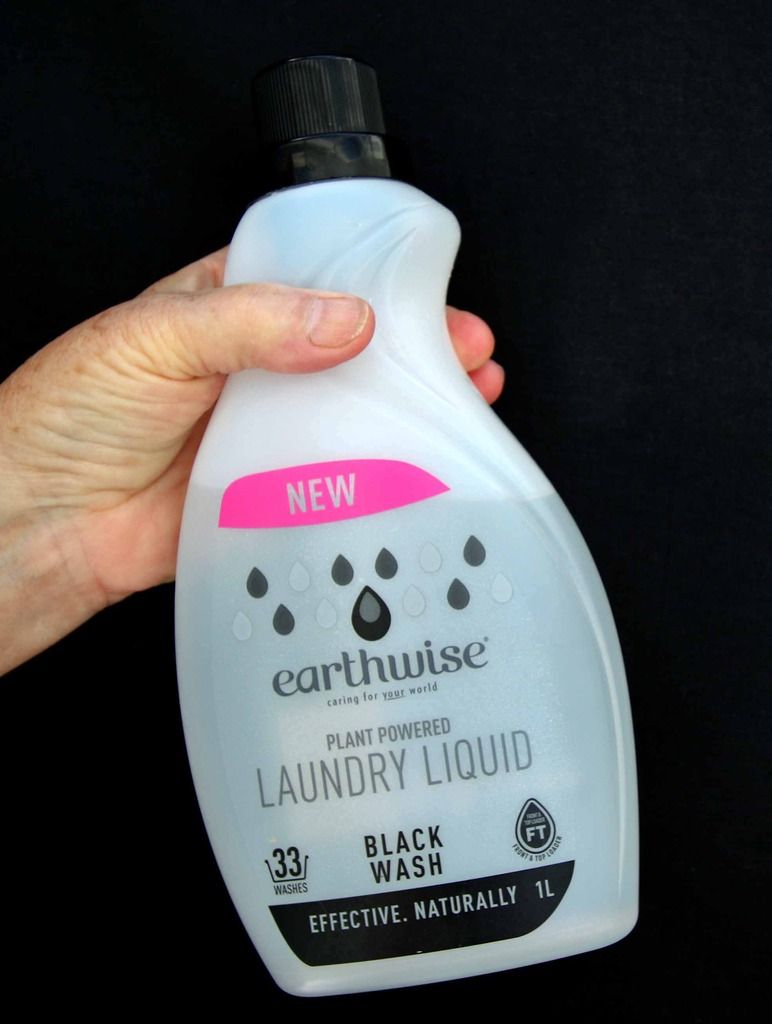 What a wonderful idea! I have many more black and dark coloured garments than whites or pastels, and fading and streaking is often an issue with ordinary washing powders and liquids - even the "better" brands - and believe me, I have tried most of them. Apart from clothing, I also have several sets of dark coloured sheets (black included) and some dark cushion covers which need frequent washing as the cats insist on sitting on them and decorating them with discarded fur.

I have seen "Black Wash" advertised but never knew exactly what it was until I was given this one to review. I was out of washing powder so made the decision to try it, not just on the darker items, but also on the lighter ones as I figured it would not hurt them. I had three wash loads to do: one whites, one darks, and one mixed colours. I was taken by the smell as I added the liquid to the first load. It reminded me of that elusive scent of freshly washed laundry that you get in hospitals and hotels - the clean, woodsy, no frills effect that engenders confidence that the linen is going to be really clean. No artificial smells as far as I could tell; just honest freshness that you feel you can trust.

The first load was the whites. I checked for streaking and detergent residue but could not fault the items. I have a cold wash only machine - and the label actually specifies that a cold wash is best - so it is important that the rinse cycle works properly with the detergent. The second load, the mixed colours, was just as successful with the added bonus that the muddy socks emerged beautifully clean. And then the test load - two black sheets, a black t-shirt, and a navy shirt. They emerged perfectly clean much to my delight. I tried to take a photo, but the black sheet was so black that you could not actually tell what it was!

I would suggest one slight improvement on the packaging. The quantity to use is shown in the form of a graphic, but it is very small and the dosage in ml is printed on a shaded area - difficult to see if you are visually challenged or if (as I was) you are working in an outside washhouse with dim lighting. The size of the pack should make it easy to include a bigger graphic as there is plenty of room to put it. The first time I used the detergent I had to take an educated guess as to the quantity needed. I was right, but it was more by luck than by anything else.

Although the price of this product is in the medium range, it is good value. Buying cheap can mean you end up with an inferior product which can just end up costing you more. However, I will probably purchase a normal Earthwise laundry detergent for my lighter coloured washing and save the Black Wash for the purpose it was intended for. It is reassuring to see that all the Earthwise detergents are grey water and septic tank friendly because my washing machine empties into an old fashioned country soakaway, not a piped drain, so it means I am not polluting my own land.
Random listing from 'Hygiene Products'...
Product reviews for listing 3010: The Scented Soap Deli - Mango Butter -
Brand: The Scented Soap Deli
Mango butter has been traditionally known for it's skin softening, soothing, moisturizing qualities The protective properties help to restore flexibility and reduce degeneration of the skin cells. Ideal for all skin types.
General Disclaimer...
All trademarks, images and copyrights on this site are owned by their respective companies.
KIWIreviews is an independent entity, part of the ePLURIBUS.nz Network. This is a free public forum presenting user opinions on selected products, and as such the views expressed do not necessarily reflect the opinion of KIWIreviews.co.nz and are protected under New Zealand law by the "Honest Opinion" clause of the Defamation Act of 1992. KIWIreviews accepts no liability for statements made on this site, under the assumption that they are the true and honest opinions of the individual posters. In most cases, prices and dates stated are approximate and should be considered as only guidelines.

"Reality is what refuses to go away when I stop believing in it."
Philip K. Dick