Product reviews on KIWIreviews.co.nz : Wednesday 26th April 2017 - 16:01:54
Advertising...

Sick of adverts? Click here to join up for free and be rid of them.
Score:

9.0

/

10

[

1

review]


ProdID: 7471 - Earthwise Nourish 'Indulge' - Coconut, Shea Butter and Manuka Honey -

Brand: Earthwise
Price:

$6.99

Supplied by:




Available:

at selected quality supermarkets

Samples for Review:
Earthwise Nourish 'Indulge' - Coconut, Shea Butter and Manuka Honey product reviews
Since 1967, Earthwise has pioneered eco-friendly cleaning.

Nourish "Indulge" natural body wash with Coconut. Shea Butter and Manuka Honey is lovingly crafted in New Zealand. It's enriched with Coconut Oil, Shea Butter and moisturising botanicals to gently cleanse and condition your skin. This rich, creamy blend replenishes your skin's natural moisture and leaves you with softer, smoother skin.

Available in most supermarkets nationwide including New World, Pak'nSave and Countdown.
This Review: 9.0/10
Value for Money:

Ease of Use:

Effectiveness:

Personal Choice: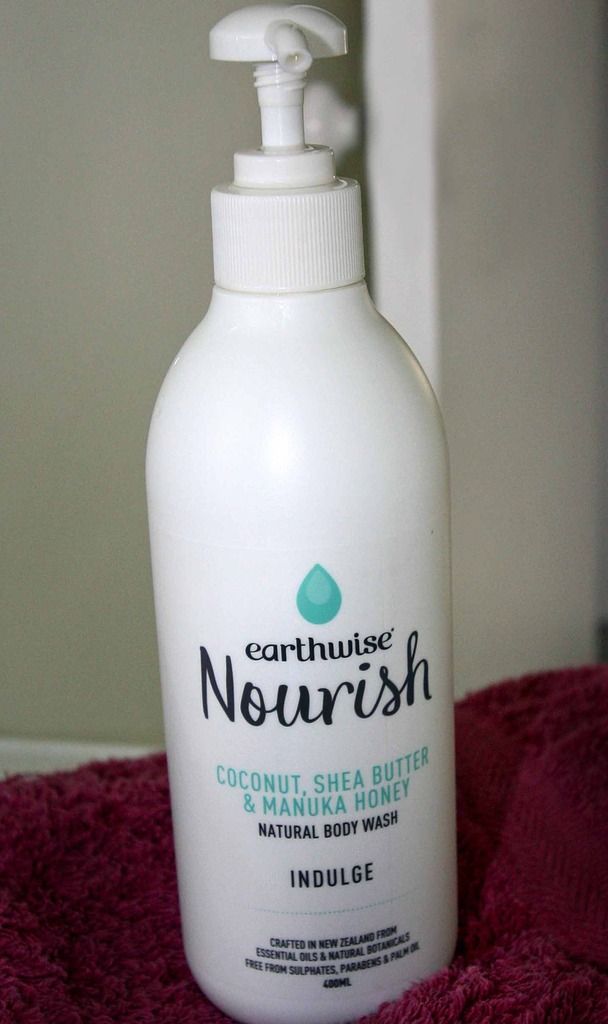 Body washes are a toiletry item that seem to have crept in gradually so that nowadays it is rare to see soap in a shower cabinet or on a bathroom basin unless it is a designer product, and it often sits alongside the aforementioned body wash anyway. Supermarket shelves feature a bewildering variety so it is necessary to be selective when buying.

I was delighted that Earthwise have included this one in their range. I love the smell of coconut so that is always a drawcard for me anyway, and this one contains shea butter as well However, although the product label lists these items as the main ingredients (along with manuka honey), there is no strong smell from any of them. Rather, the scent is delicate and you have to concentrate to be able to identify it. At the same time, the elusive aroma lingers after you have rinsed so you emerge from the shower fresh and fragrant!

The package size is perfect for when you are travelling - big enough to last a few days, even when several family members are sharing it, but not so big that it is unwieldy. Larger pump bottles can be a nuisance to use as you can't extract a blob without using both hands. For me, that usually means that I end up dropping the container and having to feel for it because I don't wear my glasses in the shower! Having a size designed for one-hand use is much more sensible.

One squirt gives you a good size lathering and I found it mild enough to use on my face as well as the rest of me. I accidentally got some in my eye but it did not do any harm; it rinsed straight out again as soon as I put my face under the shower head. I also used it when I had a large scratch (from pruning roses) on my leg and it was fine with that too; there was no stinging or irritation.

Four of us used it over the course of a weekend, and two of my friends were delighted too. They enjoyed the understated scent and the smoothness of their skin after they had finished washing. One was keen to buy some for herself and asked me where she could get some.

The fourth member of our party, however, had a minor skin reaction after she had used it. Her hands and lower arms came up in little red spots. She does suffer from eczema, but frequently uses other products containing manuka honey and coconut and shea, so the culprit is unlikely to be any of those three. We checked out the other ingredients and it does contain several surfactants so it could have been one of these that had caused it. She waited for two days then tried it again, this time just on her hands, but she had the same reaction within minutes. I left the bottle with her for the week; she waited five days then tried it a third time, and the same thing happened - so it is fairly certain that this is one person that will not be able to use the body wash. She has used many other Earthwise products in the past without incident so it has to be something that is exclusive to this one.

So - three out of four of us are giving it the thumbs up and will continue to use it. I have retrieved the rest of the bottle from my friend and am pleased to see that the bottle is still over half full. I intend to keep the rest for myself!
Random listing from 'Hygiene Products'...
Product reviews for listing 2284: Roto Duster

Brand / Manufactured by: ADMAN
Roto Duster Motorized! Throw away your dust mops, dust pans and brooms; make dusting your house a breeze!

Stop cleaning the hard, old-fashioned way. And say goodbye to harmful chemicals and sprays. Dust mops and brooms just push the dirt around.

Features:
• This new, battery-operated, spinning power duster uses static electricity to pick up dirt ... more...
General Disclaimer...
All trademarks, images and copyrights on this site are owned by their respective companies.
KIWIreviews is an independent entity, part of the ePLURIBUS.nz Network. This is a free public forum presenting user opinions on selected products, and as such the views expressed do not necessarily reflect the opinion of KIWIreviews.co.nz and are protected under New Zealand law by the "Honest Opinion" clause of the Defamation Act of 1992. KIWIreviews accepts no liability for statements made on this site, under the assumption that they are the true and honest opinions of the individual posters. In most cases, prices and dates stated are approximate and should be considered as only guidelines.

"Education is what you get when you read the fine-print. Experience is what you get when you don't."
anonymous