Product reviews on KIWIreviews.co.nz : Saturday 27th May 2017 - 12:39:14
Advertising...

Sick of adverts? Click here to join up for free and be rid of them.
Score:

- pending -[

0

reviews]


ProdID: 7471 - Earthwise Nourish 'Indulge' - Coconut, Shea Butter and Manuka Honey -

Brand: Earthwise
Price:

$6.99

Supplied by:




Available:

at selected quality supermarkets

Samples for Review:
Earthwise Nourish 'Indulge' - Coconut, Shea Butter and Manuka Honey product reviews
Since 1967, Earthwise has pioneered eco-friendly cleaning.

Nourish "Indulge" natural body wash with Coconut. Shea Butter and Manuka Honey is lovingly crafted in New Zealand. It's enriched with Coconut Oil, Shea Butter and moisturising botanicals to gently cleanse and condition your skin. This rich, creamy blend replenishes your skin's natural moisture and leaves you with softer, smoother skin.

Available in most supermarkets nationwide including New World, Pak'nSave and Countdown.
This review is awaiting approval by our moderators.
This Review: 10/10
Value for Money:

Ease of Use:

Effectiveness:

Personal Choice:
I choose to review this product because I already use a lot of the Earthwise products, so when I saw they'd released a new body wash I was really keen to review it. I love their children's range, dishwashing liquid, household cleaners and soaps. As soon as I received the body wash I opened it up and the smell was amazing. Such a delicious coconut smell with a hint of honey, such a sweet, relaxing scent. The smell is definitely my favourite thing about the body wash, it is divine and smells like a luxury treat with a small price tag.

I love the fact the Earthwise Nourish body wash is made in New Zealand and is all natural, and free from all the nasties. My favourite feature with the body wash is the easy to use pump bottle.The first pump the body wash came out, I didn't have to pump it 10-15 times to get the product up the straw which I thought was awesome. It's so nice to have a pump bottle and not having to muck around with opening up the body wash to squeeze it out. I have quite sensitive skin so it's important to me to use gentle products that won't flare my skin up, the nourish body wash has definitely been gentle on my skin and is very moisturizing.

The Earthwise Nourish body wash is only $6.99 for a 400ml bottle which I feel is a bargain for this beautiful body wash. A little bit of body wash goes a long way so I feel the bottle would easily last a month or so. I see on the Earthwise website that it also comes in a 1 litre bottle, which is awesome. I will definitely only be purchasing the Nourish body wash for myself from now on and I would love to try out the other 3 flavours in the nourish body wash range too.
This Review: 10/10
Value for Money:

Ease of Use:

Effectiveness:

Personal Choice:
I have very sensitive skin and find I can't use a lot of shower gels or lotions as they make my skin sting and itch. If I use the wrong thing I will often begin itching before I even hop out of the shower and hop out covered in red scratches where I have began to scratch my skin in an attempt to relieve the itch. A constant battle between finding out what I can and can't put on my skin is a bit of a headache and leaves me feeling quite stressed when I see these new fancy products pop up with all the gorgeous sounding fragrances.

I liked this bodywash as it left my skin feeling soft and moisturised after showering and I could work up a nice lather in shower to give my skin a good clean. I did not feel an itch in the shower so I was impressed that I could use something on my skin. Although I know plant based products often have a lower fragrance as they don't have harmful perfumes added I was a little disappointed with the fragrance of this one as I could not really smell much as I was washing.

I do like to walk out of the shower and smell the shower gels but there is a bit of a catch 22 in that the stronger the perfumes the more my skin feels irritated and it is nice to have a bodywash I can use without irritating my skin in shower. I would buy it again and would be keen to try the other fragrance varieties in the nourish range. I have tried the lily handwash and loved the fragrance so perhaps being a coconut and butter type there wasn't anything to give a strong fragrance.

I did find it ever so soft on my skin with the oils from the shea butter and the honey which I do love as ingredients in skincare products I would just of loved more of a fragrance that I could smell on my skin when I hopped out. I am sure it is just a good excuse to try one of the body lotions though so I can experience some more of the range which I would gladly do anytime.

This Review: 10/10
Value for Money:

Ease of Use:

Effectiveness:

Personal Choice:
As the nights are getting colder, nothing beats lying back in a hot bath totally submerged and relaxing while the wind is howling outside or its pouring with rain. I love blobbing in a hot bath before crawling under the duvet after a longs day work.

To be honest I have always used a cream based body wash and have always stayed away from the oily kind - but not after experiencing the Earthwise Nourish Natural Body Wash, it will always be in my supermarket trolley from now on. I loved the feel of how oily and silky my skin felt afterwards. I suffer from severe eczema and have to be extremely careful with what I use on my skin, as was evident a couple weeks back. I had used some new items in the bath and also a new moisturiser and I came out in a terrible rash - with out boring you all too much I got acupuncture which spread it thru my system, extremely unwell, doctors, blood tests, very sick and a ton of lectures from family regarding how I need to be more careful bla bla bla so I was really hesitant to try this. But I am so glad I did I love it.

The bath has an oily residue look to it which kinda reminds me of a bubble bath after the bubbles have popped and automatically I can feel the dryness of my legs disappearing as I lie back and enjoy the feeling. My skin has definitely improved and I have found my moisturiser is easier to use also. I have not used directly on my skin in the shower instead I have saved it only for my baths. I only use sensitive products on my girls and both of them have experienced it in the shower with no hesitation and both commented they like how it feels on there skin.

The only issue I have, is from the front the bottle is visually appealing and the green looks so nice but once you turn the bottle around to read the back while in a dim light it is really hard to read. I found the green letters did blur together and the green is extremely difficult to focus on. I had not issues with the black but even in the sunlight I am having trouble focusing on the green. I think in future maybe they should use a different colour as I am sure my eyesight is perfect and if I am having difficulty I can only imagine someone who has poor eyesight is feeling.
This Review: 10/10
Value for Money:

Ease of Use:

Effectiveness:

Personal Choice:
I am a self confessed Earthwise fan and pretty much every cleaning product, bathroom and kitchen product is Earthwise. I am always keen to try out different products so I was excited to see the new Earthwise Nourish range. I tried several in the range and the Indulge Coconut, Shea Butter and Manuka Honey natural body wash certainly is indulgent. I love the pump bottle used for the 400 ml wash that is free from sulphates, paragons and palm oil. The dispensing pump is really easy to use and the size of the bottle means that it fits nicely in the shower shelf as well as in my hand. I prefer this over the other Earthwise bottles as having a pump means less waste especially with the kids.

Two of my girls have developed sensitivities to soaps and this is a wash that they are able to use without any skin reactions. The texture of the wash is perfect and I love the scent and feel of this. The coconut is always a favourite of mine but this is a nice subtle scent that leaves your skin feeling soft and supple. This range of Earthwise body wash is my favourite of all of them and I think I will have this as my new bathroom staple. I can definitely recommend this range especially this scent. Cost wise I have seen this on sale but with the dispensing bottle this seems to have lasted for a lot longer than I expected so I consider this great value for money and would still buy it (shock!) even at full price.
This Review: 9.0/10
Value for Money:

Ease of Use:

Effectiveness:

Personal Choice: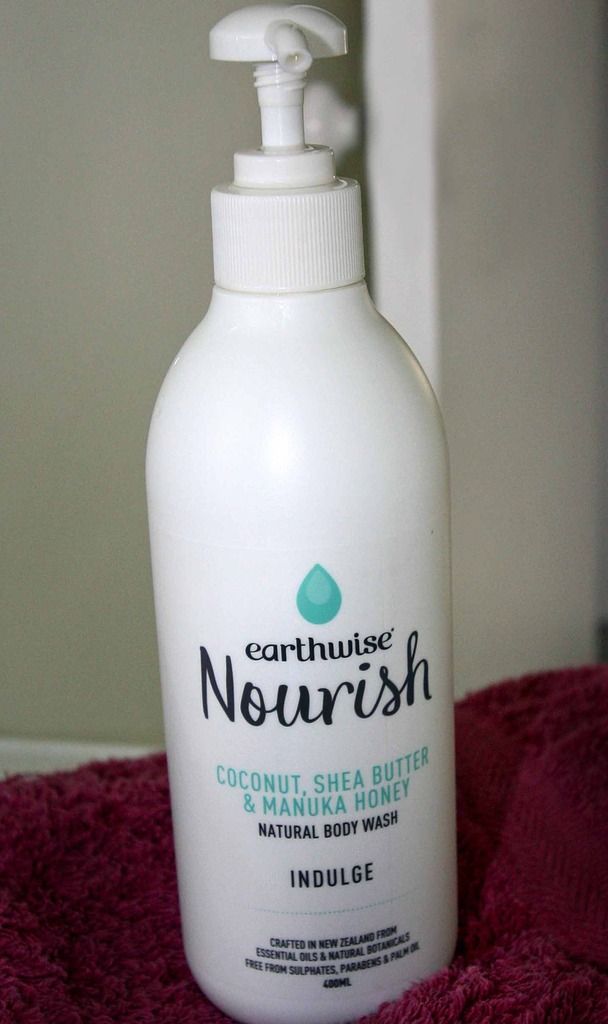 Body washes are a toiletry item that seem to have crept in gradually so that nowadays it is rare to see soap in a shower cabinet or on a bathroom basin unless it is a designer product, and it often sits alongside the aforementioned body wash anyway. Supermarket shelves feature a bewildering variety so it is necessary to be selective when buying.

I was delighted that Earthwise have included this one in their range. I love the smell of coconut so that is always a drawcard for me anyway, and this one contains shea butter as well However, although the product label lists these items as the main ingredients (along with manuka honey), there is no strong smell from any of them. Rather, the scent is delicate and you have to concentrate to be able to identify it. At the same time, the elusive aroma lingers after you have rinsed so you emerge from the shower fresh and fragrant!

The package size is perfect for when you are travelling - big enough to last a few days, even when several family members are sharing it, but not so big that it is unwieldy. Larger pump bottles can be a nuisance to use as you can't extract a blob without using both hands. For me, that usually means that I end up dropping the container and having to feel for it because I don't wear my glasses in the shower! Having a size designed for one-hand use is much more sensible.

One squirt gives you a good size lathering and I found it mild enough to use on my face as well as the rest of me. I accidentally got some in my eye but it did not do any harm; it rinsed straight out again as soon as I put my face under the shower head. I also used it when I had a large scratch (from pruning roses) on my leg and it was fine with that too; there was no stinging or irritation.

Four of us used it over the course of a weekend, and two of my friends were delighted too. They enjoyed the understated scent and the smoothness of their skin after they had finished washing. One was keen to buy some for herself and asked me where she could get some.

The fourth member of our party, however, had a minor skin reaction after she had used it. Her hands and lower arms came up in little red spots. She does suffer from eczema, but frequently uses other products containing manuka honey and coconut and shea, so the culprit is unlikely to be any of those three. We checked out the other ingredients and it does contain several surfactants so it could have been one of these that had caused it. She waited for two days then tried it again, this time just on her hands, but she had the same reaction within minutes. I left the bottle with her for the week; she waited five days then tried it a third time, and the same thing happened - so it is fairly certain that this is one person that will not be able to use the body wash. She has used many other Earthwise products in the past without incident so it has to be something that is exclusive to this one.

So - three out of four of us are giving it the thumbs up and will continue to use it. I have retrieved the rest of the bottle from my friend and am pleased to see that the bottle is still over half full. I intend to keep the rest for myself!
Random listing from 'Hygiene Products'...
Product reviews for listing 3418: Dirty Man Skincare Face Wash -
Brand: Dirty Man
Going out tonight?
Feeling Dirty?

Filthy faces impress no one so use our Aloe infused face wash to sooth and cleanse your skin. DirtyMan Face Wash will gently cleanse your skin and regular use will banish blackheads from your life.

Face wash is best used each day in the shower and before shaving to soften and prepare skin.

Product size: 150ml
General Disclaimer...
All trademarks, images and copyrights on this site are owned by their respective companies.
KIWIreviews is an independent entity, part of the ePLURIBUS.nz Network. This is a free public forum presenting user opinions on selected products, and as such the views expressed do not necessarily reflect the opinion of KIWIreviews.co.nz and are protected under New Zealand law by the "Honest Opinion" clause of the Defamation Act of 1992. KIWIreviews accepts no liability for statements made on this site, under the assumption that they are the true and honest opinions of the individual posters. In most cases, prices and dates stated are approximate and should be considered as only guidelines.

"Education is what you get when you read the fine-print. Experience is what you get when you don't."
anonymous