Product reviews on KIWIreviews.co.nz : Wednesday 29th March 2017 - 06:50:04
Advertising...

Sick of adverts? Click here to join up for free and be rid of them.
Score:

10.0

/

10

[

3

reviews]


ProdID: 7462 - Marcel's Fancy Blinis


Brand : Marcel's
Price:

$7.99

Supplied by:




Available:

at selected quality supermarkets
Marcel's Fancy Blinis product reviews
Contains 24 fancy blinis
This Review Score:




Price:

Portions:

Taste:

Personal Choice:
Since I live in New Plymouth I am actually blown away that I have not heard of Marcel's before now. I had no idea that about fifteen minutes away in Bell Block these little beauties were being created - I feel like I must be living under a rock! When I told my husband he looked at me like I was silly and said 'didn't you know' like I was thick or something. Well the secret is now out and I will be telling everyone!

These have been fantastic this past week. I have been popping one in the girls lunch box as a treat with jam and cream on it, completely frozen and by lunch time its been thawed and ready to eat. Both have said how great they are and said all of their friends have been asking for a bite. They are so fresh and do not taste like they have been frozen. They just keep so well! The first time my husband tried one he could not believe it had only been out of the freezer for only fifteen minutes and how light and tasty it was. He was in complete awe and just repeated the same five words 'but they taste so fresh'.

Besides using for school lunches - my five year old created an entree for us tonight with cream cheese and salmon and then for dessert her favourite jam and cream which were devoured within seconds as they are the perfect bite size. They have been an absolute hit with everyone and are so simple to use. With 24 in a pack they can last a while and as they only take about fifteen minutes to thaw they are perfect for when the unexpected guest pops around.

Just like the way you use Pikelets these are basically versions of those and can put any topping you see fit on them. I love how every one seems to be the same size so no fighting over the biggest one and they are basically the same thickness as well. Everyone I have tried as been perfectly cooked right the way thru and they are great even on there own but honestly taste better with strawberry jam and whipped cream.

I will definitely be buying these again in the future and will be having a box or two sitting in the freezer. They are hidden little gems and I am glad I have been let in on the secret. Still can not believe they were made right here in the Naki.
This Review Score:




Price:

Portions:

Taste:

Personal Choice: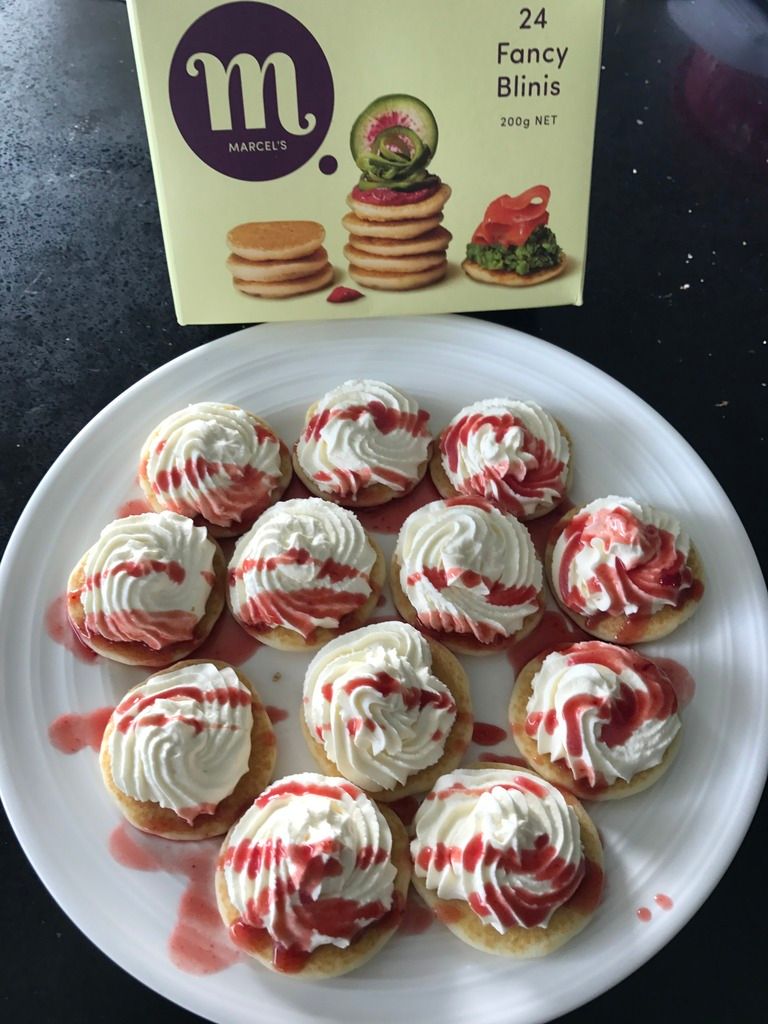 Pancakes are my kids favourite breakfast treat. We don't have it anywhere near as much as they would like but we try to have it at least once every couple of months. I wasn't entirely sure what to expect from the Blinis but they look just like mini piklets and taste exactly the same. My kids were so excited when they saw that I had bought a box home. I'm not sure they really knew what they were but they certainly liked the look of them.

We decided to pull these out of the freezer and have them for breakfast on Sunday. They only took around 5 minutes to fully defrost which is very handy when deciding last minute what to eat. I spread them out on a plate and added some whipped cream and drizzled some strawberry sauce over the top - please note this is not a usual breakfast for us!

My 3 year old son was pretty excited when he saw them and after a tiny bite to taste it, he quickly devoured all 6 until there were non left on his plate. My husband scoffed his entire plate also and I delicately ate away at mine... who am I kidding, I ate the whole lot and left no prisoners! They were definitely a hit with everyone at the table.

There are so many different options that you can have with these bite sized morsels. The packet even gives you a couple of ideas that are shown on the front and then described on the side, which I thought was a nice touch.

The best thing about these Blinis are that you can choose to either have these as a savoury snack or as a sweet treat just by changing what you place on top. I used the whole packet at breakfast for my family of 4 (there are 24 in a pack so that was 6 each) but I did go out and buy another pack which I tried with some savoury toppings, my favourite was some chutney and ham but next time I really want to try some mayo, avocado and a prawn on top, mmmmmm...

I will definitely be keeping an eye out for this product as well as the others in the Marcel brand. The only downside I could find with it was that I struggled to actually locate a packet to begin with. It would be awesome if all the other supermarkets started stocking it but it's through no fault of Marcel's that they aren't.
This Review Score:




Price:

Portions:

Taste:

Personal Choice: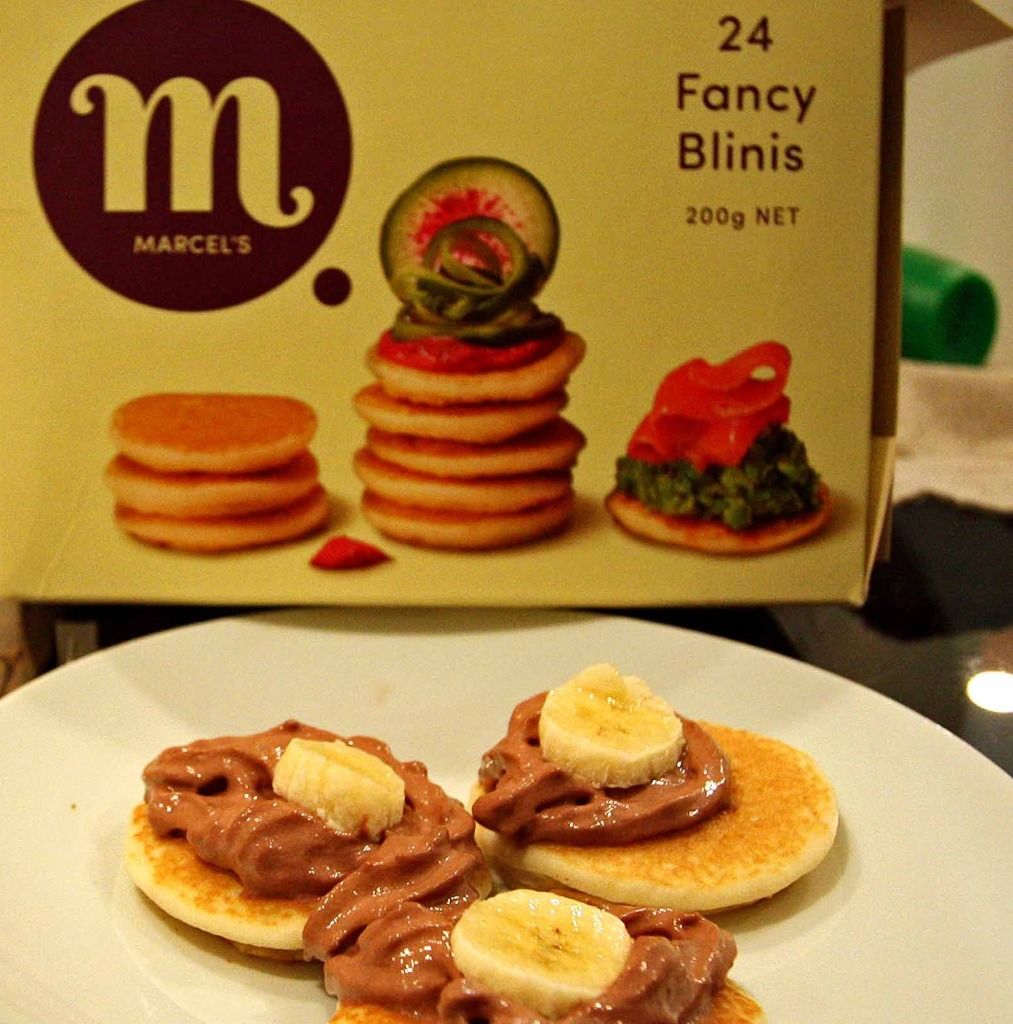 These little blinis are very much like the pikelets I make, but lighter and they hold together better. A selling point for me is that they come frozen but once defrosted stay fresh for several days. The packet says three days, but I found them still perfectly fresh five days after they had been thawed. This means you can take them on a picnic or an afternoon tea while they are still frozen - they take only minutes to thaw once they are in a warm place - and then know that any leftovers are not going to go stale all of a sudden.

I tried them with both sweet and savoury toppings. Because the blinis have a very subtle taste they are suited to almost any topping. However we did detect a slight baking soda aftertaste so on balance they are probably better served as a savoury. I had the same couple join me as testers each time so was able to get their thoughts on the comparative success rating. Hard to do however as they liked everything!

Our first topping was with chocolate mousse topped with banana. We had three each - one of the advantages of the pack size is that there are LOTS of blinis inside. There were 24 in all, and three was just right for a snack or a dessert item. The chocolate mousse went well with the texture of the blinis as it was very light, and the bananas complemented the chocolate nicely. We noted that the product contains no preservatives of any kind, and that the colour is completely natural, so this made up for the slightly unhealthy nature of the mousse!

The second time we tried them we had them with smoked salmon and cream cheese. This was seriously delicious and I was tempted to use up the rest of the packet, but I was cautious as I wanted to try them with one more topping variation. We had now used up 18 and there were just six left - two each. One friend commented that they would be perfect items for an afternoon tea as they look good and take no time at all to prepare. She has a busy lifestyle and has already decided to add a couple of packs to her freezer.

The last serving, which was just two each, was with sliced tomato and avocado. I think this was my favourite of the three toppings. The avocado was perfectly ripe and added a creamy topping which would be hard to beat. I decorated them with shredded basil and a couple of drops of hot sauce. Heavenly! The next time I buy a packet I am going to try them out with blue cheese and walnut.

Yes - I am sold on this product and so are my friends! I hope the supermarkets all start stocking it as currently it is available in only a few, but hopefully that will happen soon.
Random listing from 'Food'...
Product reviews for listing 7037: O'nuts - Raving Roast -
Brand / Manufactured by: Alexandra's
A super tasty blend of almonds, pumpkin seeds and our specially coated peanuts, dry roasted and dusted with New Zealand sea salt. We reckon Raving Roast is the best all natural nut mix around.
General Disclaimer...
All trademarks, images and copyrights on this site are owned by their respective companies.
KIWIreviews is an independent entity, part of the ePLURIBUS.nz Network. This is a free public forum presenting user opinions on selected products, and as such the views expressed do not necessarily reflect the opinion of KIWIreviews.co.nz and are protected under New Zealand law by the "Honest Opinion" clause of the Defamation Act of 1992. KIWIreviews accepts no liability for statements made on this site, under the assumption that they are the true and honest opinions of the individual posters. In most cases, prices and dates stated are approximate and should be considered as only guidelines.

"A man who is 'of sound mind' is one who keeps the inner madman under lock and key."
Paul Valery (1871 - 1945)