Product reviews on KIWIreviews.co.nz : Wednesday 29th March 2017 - 06:45:53
Advertising...

Sick of adverts? Click here to join up for free and be rid of them.
Score:

9.8

/

10

[

4

reviews]


ProdID: 7461 - Marcel's Ooh La La Crepes


Brand : Marcel's
Price:

$7.99

Supplied by:




Available:

at selected quality supermarkets
Marcel's Ooh La La Crepes product reviews
8 Ooh La La Crepes, gluten free.

Crepes are suitable for both sweet and savoury.
This Review Score:




Price:

Portions:

Taste:

Personal Choice: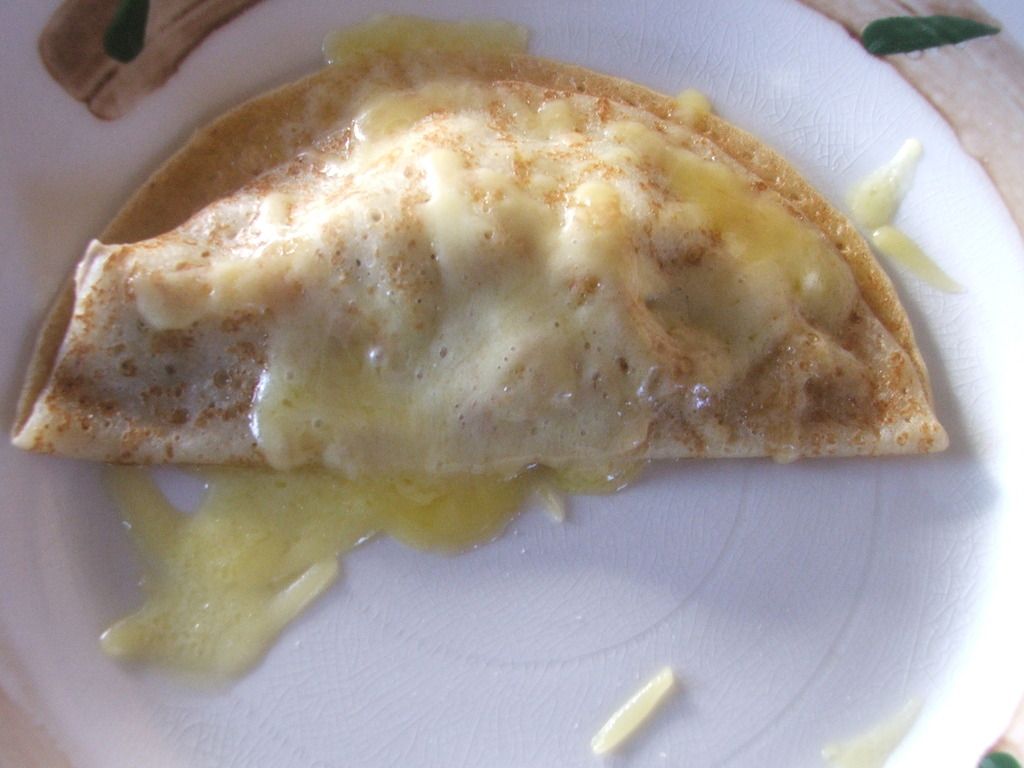 I had requested to review these thru KIWIreviews but unfortunately my application was unsuccessful. So tonight while at the supermarket I saw them in the frozen area and decided a fast crepe would be perfect for dinner. Nothing beats my mums recipe for Chicken and Mushroom Crepes! One of the first items I brought while dating my partner now husband was a Crepe maker. The problem was, the Crepe maker is terrible and they are always ripping and its often too hard to take off the hot plate, so I have kinda given up of making home made Crepes - until now!

I absolutely love Marcel's Fancy Blinis that I figured that these Crepes must be the same yummy standard and I was not wrong. So simple to use, which is what I need after my daughters dance class. I made the filling while leaving the Crepes sitting on the bench defrosting. After placing my mixture in the center I covered them in cheese and placed it in the microwave for a minute so the cheese would melt and they were perfect!

We actually went to a kind of restaurant on Friday and I had bacon and cheese crepes and I think these were marginally better, I found them very light. The flavour of my chicken and mushrooms were a perfect combination with these crepes. My husband ended up eating three of them, where as the girls had one each. We had actually started with Salmon with Cream Cheese Blinis followed by these yummy crepes and then for dessert had Jam and Cream Blinis so it was a great Marcel's night.

I love how simple these are to prepare and with so many combinations out there I could buy them all the time and have different fillings every night. There was one crepe left so instead of having the small Blini I instead had this crepe with jam and cream and a squirt of chocolate sauce and it was fantastic. So basically you could easily have it as a savory or sweet dish as the crepe is versatile to be used either way.

One thing I have to say is I live in New Plymouth and had no idea that Marcel's even existed when I told me husband he just replied with 'yea didn't you know' like I was thick or something. I have heard of Marcel's but had no idea they were in my backyard and now I will be telling everyone (although I am guessing they probably already know).
This Review Score:




Price:

Portions:

Taste:

Personal Choice:
Pancakes are something I love, and something that my family and I enjoy as a breakfast treat every now and then. When I saw the Marcel's Ooh La La Crepes up for review I was rather interested in trying these out, as to me they seemed like a healthier option than traditional pancakes that you can make or purchase readymade and I love the convenience of these as they can be frozen and it is easy enough to defrost as many as you need.

With 10 crepes in the box, all of which were a very generous size it was crepes for breakfast for Miss 4, my partner and myself for a course of 3 days which meant that I needed to get my thinking cap on in order to think of different filling ideas for these. The first day I used the crepes I decided to simply spread them with a generous amount of Nutella, which I then topped with some sliced banana and rolled up just as you would a pancake. I heated this in the microwave for 10 seconds and this was more than enough time to get the nutella nicely melted, and the crepe heated through. Served with a side of whipped cream this was a very tasty combination, especially with Miss 4.

The next day I decided to try out more of a savoury filling, I folded the crepes in half and to each one I added a sprinkling of grated cheese, some streaky bacon, tomato relish and some spinach leaves. Once I had applied the fillings I folded the other half of the crepe over top and then heated each one in fry pan until the filling was hot and the cheese melted, and the crepe lightly browned and crisp. This tasted so good and it kind of reminded me of a thin and crispy pizza.

Last of all with the 4 remaining crepes I decided to fill them with a mixed berry compote that I had made using a mix of blueberries, strawberries and raspberries, and some ready made custard. After rolling these up I drizzled a small amount of icing sugar over each one and a drizzle of chocolate sauce. I left these cold as I didn't want the custard to get messy and once again the flavours were divine and the crepes worked perfectly.

I can't rate these crepes enough, I love that they are not sweet or savoury tasting which really makes them a very versatile product that can be used in an array of dishes. They are so easy to fold and cut, and I never had any problems with them ripping or tearing. If I had to find one (small) issue with these it would be that they do have little holes throughout them which does cause liquids to seep through however this really isn't something worth worrying about.

I totally recommend these as something you should try a great tasty product, at an even better price.
This Review Score:




Price:

Portions:

Taste:

Personal Choice:
I have no major food allergies or issues - apart from a dislike of too many tannins and a mild reaction to fungii - so the whole "gluten-free diet" thing is not something I usually concern myself with. However, with the recent decision to cut leavened bread products out of my diet, pretty much anything with flour has fallen by the wayside apart from unleavened wraps. Thus, these crepes were a bit of a treat... and what a treat they are!

Precooked, frozen in packs of 8, there's enough for dessert for a family of four with some restraint, or 2 people with a serious hankering for post-dinner sweetness. To be honest, I would have liked to have seen them in a pack of 12 - it divides better for groups of 1-6 people - but I appreciate at that quantity the RRP of the pack would have put a lot of potential customers off on cost alone.

To prepare this experimental dessert was simplicity itself, and I thought to do it a little differently. Taking inspiration from Mexican quesadillas, I pre-heated my 4-slice sandwich press (though you can do them in a 2-slice if you want single-crepe portions) and laid a crepe on the bottom plate. Working quickly, I layered on some dark chocolate chips and a bit of lemon curd, then slapped a second crepe on top and dropped the press down. Giving it barely 30 seconds - just enough to melt the chocolate - I popped the press open, folded the resulting crepe-adilla in rough quarters, added a scoop of ice-cream and an a dollop of lemon curd, and served it up. AMAZE-BALLZ!

I would like to share a couple of other recipes I made with these... but I can't. When I told my kids about this experiment, they demanded I repeat it for them, and there went the last of the crepes in one shot... because of course I had to try the repeat version - experimental analysis to prove the validity by repetition, naturally. That's the Scientific Method after all.

Ovewrall, these are stunning! So simple to use, so full of flavour. Honestly, these are now the second "gluten-free" pancake-style products I have tried, and I'm really getting the idea the flour-based ones should be put out to pasture - they are rubbish by comparison... and that's coming from someone who is pretty proud of his home-made pancakes and crepes! I quit - I'm buying these from now on.
This Review Score:




Price:

Portions:

Taste:

Personal Choice:
I have eaten these pancakes on three previous occasions, all in French restaurants - one in Montreal, one in Andraitx in Majorca, and the last in Arrowtown, right here in New Zealand. On all of these occasions they were eaten as a special treat and I got to try various combinations ranging from seafood toppings to jamon espanol to crepes Grand Marnier (which is the one where the liqueur is poured over and then the dish set alight to caramelise the sugar). So I am overjoyed to find they are now available commercially and I can buy them to serve at home with my own toppings.

I did not have any Grand Marnier handy, alas, but I did get to try a range of flavours and serving methods. Luckily the packet is crammed full: there are ten good sized crepes included and they last for several days once thawed (the pack suggests three days but I used the last of mine a week after thawing and they appeared to be just as fresh as the first couple).

The first trial was with a rich confectioner's custard filling. I have had this with pastries but thought it might go well with the crepes too, and it was really nice - the crepes can be heavy so you need a lighter filling to complement that. I added some fruit on top and we had one each for dessert. The reaction was great; smiles all round as everyone gave it the thumbs up. I had warmed the crepes, but added the filling cold just before serving.

The second time we had them was with tomato-flavoured tinned sardines and a green salad. I did not warm the crepes this time, and really it did not seem to matter - the filling was cold too and quite palatable. It was not a combination I would have chosen, but the children present are into sardines and they assured me it would be much nicer than having them on toast. And, to my surprise, it was - an interesting combination of textures, and the sardine flavour was not too overpowering. I was pleased I had followed their suggestion as it is not a mix I would have thought of.

There were two left in the packet, so we had them for supper when everyone else had gone. I had been told they would work quite well in a sandwich press so I prepared them as though I were making a toasted sandwich. I had some ready grated cheese and some spring onions so I spread a little relish on one of the surfaces then added the cheese and onion. I was not sure how long to heat them as I did not want the crepes to go too dry, so I removed them as soon as I heard the cheese sizzling and cut the "sandwich" in half so we could share it.

All three of the combinations worked for me and for my other testers as well. I am glad I got the chance to review this product as it is something I can use in many different ways - and it has the advantage of being gluten free for those who need to be aware of this. And it is cheaper than travelling to Andraitx or Montreal! I just need to add Grand Marnier to my shopping list ....
Random listing from 'Food'...
Product reviews for listing 6658: Strawberry Yoghurt Drops -
Brand / Manufactured by: Kiwigarden
Kiwigarden honest, crunchy goodness

Strawberry Yoghurt Drops

5 handy sachets per box
Gluten free
Made with real fruit and yoghurt
Made in NZ
General Disclaimer...
All trademarks, images and copyrights on this site are owned by their respective companies.
KIWIreviews is an independent entity, part of the ePLURIBUS.nz Network. This is a free public forum presenting user opinions on selected products, and as such the views expressed do not necessarily reflect the opinion of KIWIreviews.co.nz and are protected under New Zealand law by the "Honest Opinion" clause of the Defamation Act of 1992. KIWIreviews accepts no liability for statements made on this site, under the assumption that they are the true and honest opinions of the individual posters. In most cases, prices and dates stated are approximate and should be considered as only guidelines.

"You know you've read a good book when you turn the last page and feel a little as if you have lost a friend"
Paul Sweeney