Product reviews on KIWIreviews.co.nz : Wednesday 29th March 2017 - 06:42:49
Advertising...

Sick of adverts? Click here to join up for free and be rid of them.
Score:

9.8

/

10

[

1

review]


ProdID: 7456 - Hinepau


Author: Gavin Bishop
Price:

tbc

Supplied by:




Available:

tbc

Buy it:

Samples for Review:
Hinepau product reviews
Hinepau has hair the colour of a sunset and eyes the colour of greenstone. The people in her village are frightened by her startling appearance. Even her weaving is different, all back to front and inside out. The people banish Hinepau from the village, but when disaster comes and the great volcano grows angry, it is to Hinepau, the outcast, they turn.
This Review Score:




Price:

Value for Money:

ReReadability:

Personal Choice: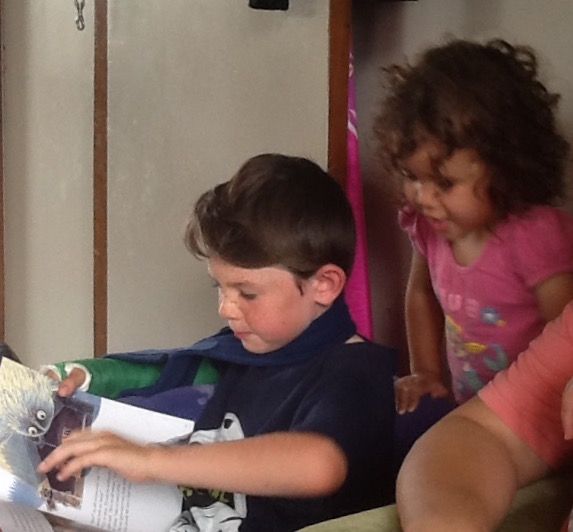 This is a book which is, quite simply, a work of art in itself. The graphics are stunning: when I put a selection of books on the table, all five children went for this one. Mr Seven, Miss Five, Tuakana and Teina were all more than ready to settle to listen to a story. Even Miss Eight Months, who is barely able to understand what a book is, was taken with the pictures and wanted to see.

Mr Seven had a quick look at the book and said he would like to read it to the others if we (the two adults present) gave him a hand with some of the harder words. That was fine by us; it was nice to see that he was keen to read, and the other children settled around him to listen. There is something very special in watching a child read to younger children: there is this bond that happens as the little ones get drawn into the story, and, despite the occasional request for assistance, he was so caught up in the story himself that it really did not matter.

Tuakana loved the colours and every so often she reached over Mr Seven's shoulder to pat the pictures. Teina was content to look on and just listen to the story. Miss Five sat at her brother's feet but each time he turned a page she popped up to see the new picture. Mr Seven was careful to read slowly so that the little ones could follow.

Because the story is about weaving and the magic you can create through this mahi, Miss Five was really into it because she has just started to learn to weave herself so there was a special connection for her. We had to explain what a makutu meant, and assure her that weavers do not really do that! Later in the story, when Hinepau went for a ride on the back of the ruru, we had to chime in again and tell her that she would not be able to do that either.

I love the way that the Maori terms are used as an integral part of the story. All the children have some reo and were able to follow on with a little help from us. Mr Seven in particular knew some of the words but others were new to him, so we explained them in context as we went along. He was quite proud of himself by the time he got to the end as he had learned a few new words and was confident in his pronunciation. It is a great way to help children to learn as they go. I left the book with Tuakana and Teina, and as I left I heard them asking their mother if she would read it to them again. Children are the best critics of all. If they like a book, they say it how it is - loud and clear!

Random listing from 'Books'...
Product reviews for listing 3905: Scrap #2 Oh My Dog!

Author: Vince Ford
Scrap, the blond puppy, gets sent to work on a farm and finally gets to try out his eye dog skills on a real sheep station. The farm is next door to the one he's discovered his mother lives on, and he is very keen to reacquaint himself with her.

But her boss has other ideas... and tries to shoot Scrap when he comes to visit!
General Disclaimer...
All trademarks, images and copyrights on this site are owned by their respective companies.
KIWIreviews is an independent entity, part of the ePLURIBUS.nz Network. This is a free public forum presenting user opinions on selected products, and as such the views expressed do not necessarily reflect the opinion of KIWIreviews.co.nz and are protected under New Zealand law by the "Honest Opinion" clause of the Defamation Act of 1992. KIWIreviews accepts no liability for statements made on this site, under the assumption that they are the true and honest opinions of the individual posters. In most cases, prices and dates stated are approximate and should be considered as only guidelines.

"Why do the Alphabet song and Twinkle, Twinkle Little Star have the same tune?"
unattributed