Product reviews on KIWIreviews.co.nz : Wednesday 29th March 2017 - 06:49:13
Advertising...

Sick of adverts? Click here to join up for free and be rid of them.
Score:

9.8

/

10

[

2

reviews]


ProdID: 7453 - El Mexicano - Nacho cheese Sauce


Produced by Marquez Brothers International
Price:

$6

Supplied by:




Available:

via online store

Samples for Review:
El Mexicano - Nacho cheese Sauce product reviews
This nacho cheese sauce has a mild jalapeno flavour. Just heat up sauce and dip your corn chips in it.
This Review Score:




Taste:

Value for Money:

Number of Uses:

Personal Choice: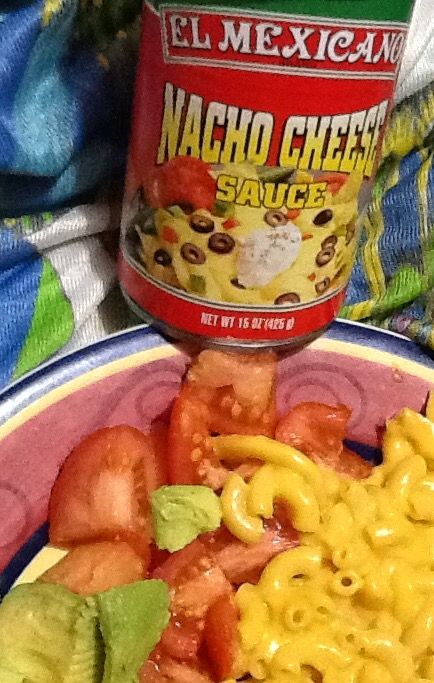 Up to now I have never considered buying a ready-made cheese sauce because I have always made my own, so I was intrigued to see whether this can would measure up. I had three dishes in mind to try it on, so once I had opened it I measured out the quantity for the first - which was a mixed broccoli and cauliflower cheese. I often serve these vegetables with a cheese sauce because it enhances the flavour and also makes them look more interesting on the plate.

I blanched the vegetables then topped them with a quarter of the can of cheese sauce and a sprinkling of sunflower seeds. I had tasted the sauce before adding it so I knew it had a slight (and unexpected) kick to it, but was not prepared for the amazing taste of the resulting dish when I took it out of the oven. It was not only as good as my home-made sauce, it was actually better. It had a great colour (reminding me, when combined with the vegetables, that it was a most appropriate recipe for March 17!) but also had a strong, rich flavour that resulted in the bowl almost not needing to be washed as the diners had managed to scoop out every last scrap! It will from now on be known as St Patrick's Day Broccoli, at least in my kitchen.

The second dish I tried it on was a basic macaroni cheese - and for this I used half a tin. The macaroni already had some liquid in it as I had included chopped leeks when I cooked it, and it was impossible to drain them dry before adding the sauce. If I had started with a drier macaroni mixture I might have needed more sauce. As things were, the half can was plenty for a moist end result. I could have browned it under the grill but people were hungry so I just stirred the cheese mixture into the hot macaroni and served it up immediately. Because the rest of the ingredients were extremely hot, the addition of the sauce did not cool it down too much.

The final quarter tin was reserved for my own lunch - I used it the conventional way to top some nachos together with leftover cooked mince and bean mixture. Needless to say, this was a great snack meal: I was able to take it to work and warm it in the microwave.

I could not find any indication on the can as to how long the contents could safely be stored after opening. In fact, there was not even an instruction to keep the opened contents refrigerated! However, I guess that is common sense given that it is a dairy product. As for keeping time, I noticed it had separated slightly 24 hours after opening, so I would probably play it safe and use it up within two or three days.

Will I buy it again? It is quite expensive so I probably won't buy it if I have hordes of people to feed, but for just one or two people it would be a great item to have in the cupboard as it is so quick and preparation is clean - you don't have half a dozen dishes to soak and wash, which is the usual way with home-made sauce. I also liked the fact that you could reseal the tin to use again if you had not used it all in one go.
This Review Score:




Taste:

Value for Money:

Number of Uses:

Personal Choice:
When it comes to cheese I am the biggest fan, I love cheese on everything! However when it comes to making cheese sauce I am really not that great at making it, it always turns out lumpy otherwise rather tasteless which I always find such a shame. When I saw the Nacho Cheese Sauce up for review I was really hoping I would get the opportunity to review this and luckily I did.

The sauce comes ready made in a generous sized canister with a resealable lid, which is great as it means you don't have to use all the contents up at once. Opening the lid for the first time I saw a lovely rich, creamy sauce that was beautiful and thick, inside it it had what looked to be flecks of peppers in it, I must admit this did make me a bit worried as i'm not usually a fan of things that are hot and spicy, looking at the ingredients list I saw that these were in fact Jalapenos.

I decided to try this sauce out first on top of a lasagne which I had made for dinner, so after layering my mince and pasta I spread half of the cheese sauce over the top and then added a generous sprinkling of cheese before popping it in the oven to cook. The way the lasagna looked when I removed it from the oven was divine the sauce was all in place and hadn't vanished into the mince like it usually does and the taste was even better, so rich and cheesy, there was a hint of jalapeno flavour coming through though this was relatively mild and so didn't put me off, even my partner said that the sauce was really nice and Miss 4 was happy to gobble it up.

The next day we had some visitors so I decided to heat the remaining sauce up gently in a saucepan to serve with some nibbles on a platter, corn chips, chicken nuggets and salami pastry bites, the sauce was absolutely delicious as a dipping sauce and the cheesy flavour worked amazingly, everybody was asking for the recipe, they were happy to hear that it can be purchased right here in Hamilton at International Foods.

This sauce is amazing, so easy to heat and use I can think of so many uses for it, and am happy to say that I won't be making my own cheese sauce from scratch again, why would I when I can buy this amazing sauce. Another great product from International Foods that I have and will continue to buy again, the only problem I have is that when I go into the shop, I walk out with a whole lot more than I went in for!
Random listing from 'Food'...
Product reviews for listing 4753: Oxford Sausage Roll

Manufactured by Oxford Pies
The origins of the sausage roll are lost in the mists of history, but every good sausage roll has just one future... and it probably involves sauce.
General Disclaimer...
All trademarks, images and copyrights on this site are owned by their respective companies.
KIWIreviews is an independent entity, part of the ePLURIBUS.nz Network. This is a free public forum presenting user opinions on selected products, and as such the views expressed do not necessarily reflect the opinion of KIWIreviews.co.nz and are protected under New Zealand law by the "Honest Opinion" clause of the Defamation Act of 1992. KIWIreviews accepts no liability for statements made on this site, under the assumption that they are the true and honest opinions of the individual posters. In most cases, prices and dates stated are approximate and should be considered as only guidelines.

"A seminar on Time Travel will be held two weeks ago."
anonymous