Product reviews on KIWIreviews.co.nz : Monday 1st May 2017 - 00:54:17
Advertising...

Sick of adverts? Click here to join up for free and be rid of them.
Score:

7.5

/

10

[

4

reviews]


ProdID: 7435 - Granite - Turmeric Gold


Brand Lifeforce Tonics
Price:

$7.00 / 330ml bottle

Supplied by:




Available:

via Online Store and selected quality retailers

Samples for Review:
Granite - Turmeric Gold product reviews
Infuse your body daily with our potent, raw, organic lifeforce tonic; Turmeric Gold Tangy apple cider vinegar, sweet floral honey, spicy ginger, fresh turmeric, maca root, lemon juice and black pepper.

A powerful immune booster, loaded with antioxidants, vitamins and minerals. Assists with hormonal balance and boosting the libido. A great asset for the athlete. Use both pre and post workout, and for endurance events. You will be energized and illuminated!
This Review: 7.3/10
Value for Money:

Effectiveness:

The Taste Factor:

Personal Choice:
I tend to follow a Paleo lifestyle so trying to find something that can fit within this can be tough, but this "Tonic" seemed to tick most of the boxes. I mean lets be honest Tumeric, Ginger, Honey, Apple Cider Vineger and Lemon Juice have all been well regarded as the best of the best when it comes to healthy oxidant filled ingredients.

First impression was good, lovely coloured label and the gold embossed type lettering absolutely made you feel like you were about to drink and taste something of great wellness. I am glad I didn't just take to it like any normal "bottled" beverage and drink the lot, but rather felt the urge to see what goodness and contained and thankfully glanced across to find "recommended" consumption - 100mL / day for an adult, 50mL for kiddies - nice to know its for the whole family.

So the moment of truth; give it a shake to get all the goodness off the bottom of the bottle, start to take the top off and sheer panic sets in as suddenly it starts fizzing out the top. Where did I miss the note that this is a carbonated drink, seems kind of against what you would expect of a tonic; except the G&T kind.

Crisis averted, now time to taste. Hmmm not as strong as I had expected (a good thing in my opinion as too much Tumeric can be very overpowering and not pleasant) and the taste of the spicy ginger and the ACV came through nicely, and actually the fizz was kind of refreshing. Overall a really enjoyable experience, although the "after fizz" aka burping was a bit of a hangover from it, but you can live with that on a refreshing and good for you type Tonic.

Would I drink it everyday, yes but the fizz tends to run flat day 3 and the refreshing zing tends to disappear a little too which makes me wonder why the size of the bottle is 330mL; at this price you are looking at near $15+ for a week; so I might stick with warm water, ACV, honey and lemon. Design a sachet and I'm in.
This Review: 9.3/10
Value for Money:

Effectiveness:

The Taste Factor:

Personal Choice:
Having tried the Lifeforce Tonic Chilli Glow I was a bit more tentative trying this variety as I have said in my Chilli Glow review I am quite sensitive to spice and heat so the Chilli did give me a bit of a burn. I have been reading lots on natural ways to heal my gut due to having major intolerances come on to certain foods and have heard great things about Turmeric for women so this was quite an exciting thing to try.

I do add small amounts of turmeric to food so don't mind the flavour and find it really enhances a curry but I am a big fan of mild curries as I don't like it when I get to much heat and my nose runs. I again liked the smell when I opened the bottle like I did with the Chilli Glow as I am so used to the smell of apple cider vinegar from using it to help with digestion. It just smelt like a sweet soft drink to me so very pleasant.

I loved the flavour it is nice to have an apple cider drink with a sweet taste as I usually just have a teaspoon in a glass of water and then wash it down with a cranberry juice after being able to just drink it all in one drink is a lot more pleasant. Again I felt a burn as it started travelling down my tubes but not quite as bad as with the chilli so a lot more pleasant. I think I would be more keen to try this one again than I was with the Chilli but again wasn't too sure I liked the heat when it hit my chest.

I didn't find this irritated my stomach as much as the chilli did but still hard to tell what is affecting my stomach and what isn't in the early stages of cutting things out to deal with digestive problems, nausea and fatigue and chronic stomach pain. It is so good to have the opportunity to try things out as it is quite expensive trying things out and then realizing they are making things worse.


This Review: 4.5/10
Value for Money:

Effectiveness:

The Taste Factor:

Personal Choice:
Having already tried the Blackcurrant Blast and not enjoying it, I was pretty sure that I wasn't going to enjoy this drink either. As much as I know it is good for you, I simply can't get past the strong flavour of apple cider vinegar. Seeing that this drink has 8% in comparison to the 6% of apple cider vinegar in the blackcurrant blast I held little hope seeing that this one has more.

Upon opening the bottle I could swear that it smelt just the same as the blackcurrant blast. A strong smell of apple cider vinegar, and an equally strong smell of ginger - one ingredient that isn't a big favourite of mine either. I didn't let this stop me giving the drink a good try though, as things can sometimes taste quite different to how they smell.

Taking a sip I was a little bit surprised at the flavour. Even though the apple cider vinegar was strong in smell it didn't seem as strong in the taste. Instead it was the taste of the tumeric that stood out over top of anything else. Having said that, it still tasted quite strongly of vinegar and in this drink I certainly couldn't taste the sweetness of honey at all. I can see how this drink would appeal to those who enjoy drinking things for health rather than just for the taste, and I don't doubt the benefits. Not being able to have anything more than a sip I can't comment on how it made me feel, but am interested to share the drink with some work mates that may like it to see what it does for them. I am thankful for having the chance to try the drink, but it isn't one that I will be purchasing for myself in the future.
This Review: 8.8/10
Value for Money:

Effectiveness:

The Taste Factor:

Personal Choice: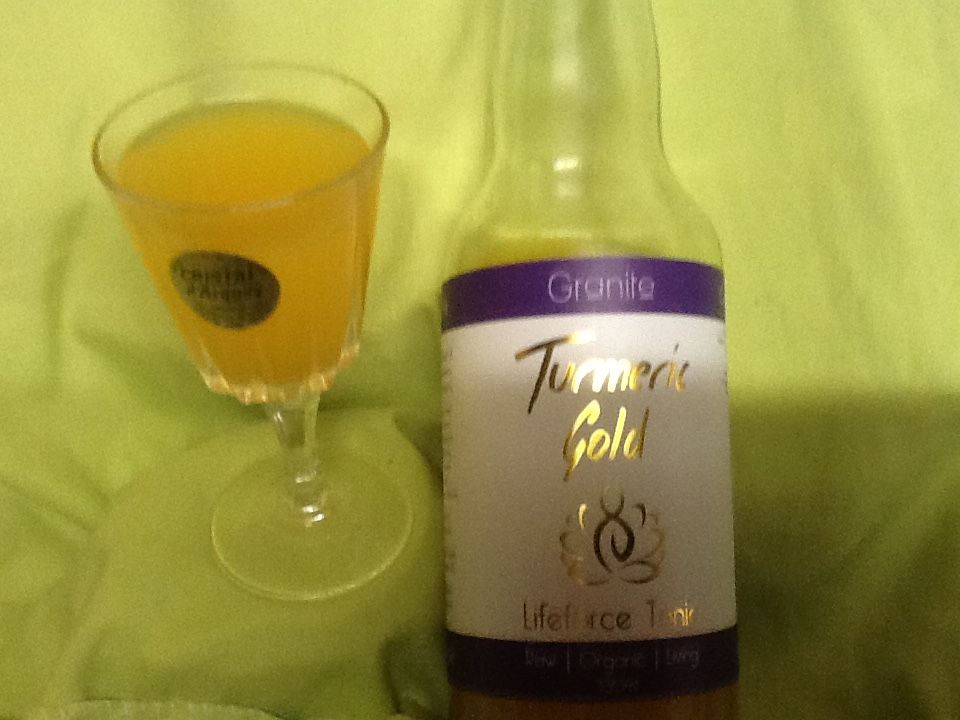 I don't know whether or not this product has energised and illuminated me yet - it is probably too soon to tell as I have had just the one bottle (over the course of four days), but I can definitely report that it is a most pleasant and refreshing drink; I had to remind myself not to drink too much in one go because I was enjoying it so much. I have had cider vinegar and honey drinks before and have usually found them far too sweet, but this blend with the added turmeric is much more palatable.

The spices combine to give a hint of garam masala, but this effect is quite subtle. The dominant flavour is ginger with the turmeric very much in the background as an aftertaste. I was intrigued to find that the ingredients include maca root. I had never heard of this, so I had to check it out - and was interested to find that it has all the positive attributes of ginseng with no known side-effects.

I love the gold colour of the liquid. It practically radiates good health! The label is simple and to the point, but the purple border and the gold lettering make it look special - and that calls for a fancy glass to serve it in. It is important that foods and beverages designed to maintain good health look attractive so that they appeal to the consumer - the days when "health" products looked and tasted boring and bland are no more.

My job entails a reasonable amount of physical activity so it is easy to get tired, especially at the end of the week. On the occasions when I work through the weekends as well it is possible to work up to 28 days at a stretch, so anything that will help to energise me is going to be a good choice. I am looking forward to trying it out over a longer period of time. Who knows, I could become superfit given time.
Random listing from 'Beverages'...
Product reviews for listing 2566: McCashins 2009 Marlborough Chardonnay -
Brewed / Bottled by McCashin's Brewery
McCashin's range of quality wines is elegant, fruity and very drinkable - made using only the finest grapes specially handpicked for their perfect ripeness and strong characteristics.

Every bottle has been crafted to maximise the unique flavours in the fruit. McCashin's Estate is an award-winning brand bringing you another fantastic range of wine to be enjoyed on its own or with food.
General Disclaimer...
All trademarks, images and copyrights on this site are owned by their respective companies.
KIWIreviews is an independent entity, part of the ePLURIBUS.nz Network. This is a free public forum presenting user opinions on selected products, and as such the views expressed do not necessarily reflect the opinion of KIWIreviews.co.nz and are protected under New Zealand law by the "Honest Opinion" clause of the Defamation Act of 1992. KIWIreviews accepts no liability for statements made on this site, under the assumption that they are the true and honest opinions of the individual posters. In most cases, prices and dates stated are approximate and should be considered as only guidelines.

"If the temperature is zero outside today and it's going to be twice as cold tomorrow, how cold will it be?"
unattributed