Product reviews on KIWIreviews.co.nz : Tuesday 25th April 2017 - 18:31:56
Advertising...

Sick of adverts? Click here to join up for free and be rid of them.
Score:

8.8

/

10

[

4

reviews]


ProdID: 7417 - Nescafe Dolce Gusto Cafe Au Lait


Brand / Manufactured by: Nescafe
Price:

$9.99

Supplied by:




Available:

At supermarkets and online

Samples for Review:
Nescafe Dolce Gusto Cafe Au Lait product reviews
Simple idea, fancy French name. This is delicious coffee with milk, all in one capsule. The perfect morning drink. It just sound so much sexier in French.
This Review: 8.8/10
Price:

Value for Money:

Taste:

Personal Choice:
I find myself liking coffee less and less and had taken a hiatus from using my dolce gusto machine due to costs, but this is a drink that is better value than others in this range as for $9.99 you get sixteen drinks instead of just eight, as the milk is already in this pod. Everything in one pod should also cut down on your waiting time as you only have a single pod to deal with. I tried this as per the suggestion on the box/pod and did find that this was a tad too bitter for my liking, but decided that I would try it with more water before adding sugar into the mix.

I set this up to the full amount of bars, just one more than the suggestion says, to see how this would affect the overall drink. I did find this improved the taste slightly but it still didn't have me dying to have another cup of coffee. However, my brain has been in a bit of a fog with this relentless heat and so I made myself another coffee, back to the suggested amount of water, but added a teaspoon of sugar... Much better. Still in a fog, I made another cuppa using full amount of water and a teaspoon of sugar, and whilst I still don't love this drink, it was much, much better.

I will buy this again, because it does have a nice taste to it, it's worthwhile cost wise and it gave me a good enough caffeine kick.
This Review: 9.3/10
Price:

Value for Money:

Taste:

Personal Choice:
I must start off by being honest and saying that I am not a coffee drinker, never have been and never will be, when it comes to drinking hot drinks hot chocolate is always my drink of choice. However I have a lot of family members who are mad coffee drinkers, who need to have their coffee fix at particular times throughout the day, for this reason I opted to review the Cafe Au Lait as I knew that I would plenty of people who would be keen to sample these for me.

When my in-laws heard that I have coffee machine that I needed them to help me try out they were straight around, as it just so happened to be close to afternoon tea, I prepared the first coffee as directed which was super quick and easy. I simply popped the coffee and milk pod into the pod dispenser of my Eclipse and then 6 bars for the strength and watched as the coffee was poured from machine to mug. My in-laws were amazed by the lack of steps needed to prepare their coffee and were excited to give it a try. The smell of the coffee was strong, but not overpowering which my in-laws were happy about as they are not fans of ultra strong coffee. The taste of the coffee was well suited to those trying it, however they did feel that a teaspoon of sugar was needed to make the coffee taste perfect, they said that they would happily drink this on a daily basis and that it was just as good, if not better than some of the coffee's they have tried from neighbouring cafes. They loved the froth that came out on top of their drinks saying it was "just like you get when you go to a restaurant".

Taking into consideration the price of these capsules they really are great value for money as many of the Nescafe coffee capsules come in boxes of 8 coffee pods, and 8 milk pods giving you a total of 8 drinks, however the Cafe Au Lait pods have the coffee and milk all in one which means that a box will make 16 cups of coffee which works out to be roughly 62 cents per cup of coffee.

So while I won't buy these for myself they are definitely something that I intend to keep on buying to have on hand for visitors who are fans of coffee.
This Review: 8.3/10
Price:

Value for Money:

Taste:

Personal Choice: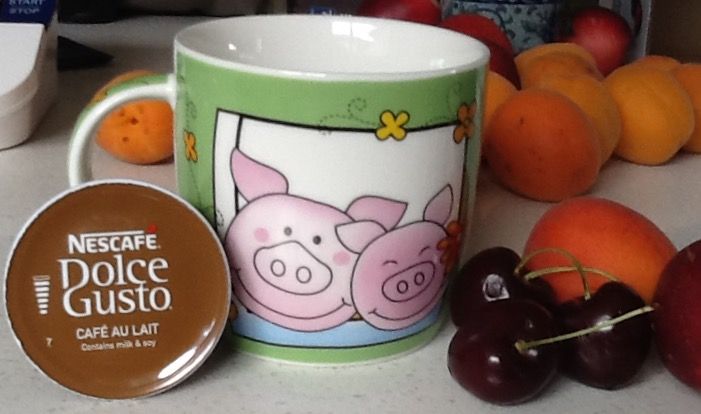 When I opened this box I was delighted to find that there were sixteen drinks inside rather than the eight that were in the other coffee-and-milk combinations. I thought this would mean that the box would be better value than the rest, so I looked forward to trying it out on some of my friends. I had invited three people to test the product out for me and was looking forward to some good feedback.

The brew smelled good, and the cups were steaming hot - so hot that everyone had to delay tasting the contents for a few minutes. Finally one person (my elderly aunt) had a sip and she was delighted. She likes coffee and has always drunk it in preference to tea. She is quite modern in her choice of products and likes to try the very latest whenever she can. She liked the fact that it was reasonably strong and not too sweet, and said she could probably manage a second cup later in the evening.

The other two, her neighbours (who are quite a bit younger), were not as glowing in their comments. He thought it was okay, but nothing special - he had already tried several other blends in the range and for him this one lacked character. His comment was that it is good insofar as it was streets ahead of the instant coffee he is forced to drink at work, but falls far short of the latte macchiato or even the chai tea latte he has tried on other occasions. They have a coffee machine of their own so are familiar with a number of the Dolce Gusto range, including some of the new flavours they have tried with me over the last few days.

His wife said it was not sweet enough, and the coffee was too strong. She asked for a teaspoon of sugar and some fresh milk; once these had been added she said it was quite pleasant but she would probably still go for latte macchiato as it has more flavour and the right degree of sweetness without needing additives. She was quite disappointed as she had expected the single capsule would be a much better buy. However, she did say it was satisfying enough with the extra milk and sugar and she would happily drink it if there was no other variety available.

It is interesting that different people have different perspectives on flavours and combinations, but I guess that all this shows is that it is important to give people a choice so their tastes are catered for. My aunt was very happy with the drink just as it was and said she would not add anything - it was fine just as it was.
This Review: 8.8/10
Price:

Value for Money:

Taste:

Personal Choice:
Defintely the best Dolce Gusto capsule value wise - 16 capsules makes 16 coffees. Really yummy and creamy and as with other capsules super easy to use. Leaves a nice wee milky layer on the top and can be sweetened with a touch of sugar. I have found that there isn't quite as much caffeine in these as I would have liked and by morning tea I'm looking for my next fix.
We picked this product as we found we were going through the other varieties too quickly (most others have eight capsules with milk and eight with the actual coffee) so dollar for dollar it made sense to buy these ones. With the low amount of caffeine though we find that we go through just as many as before but it is a nice blend to have after dinner. So handy to have these capsules though for when friends or family drop by, a bit nicer to serve them with these than just plain old instant coffee.
We would definitely recommend to others, but probably more so to those that are okay with having a quick coffee or two during the day and don't rely on the caffeine to function, otherwise stick to the other Dolce Gusto varieties.
Random listing from 'Beverages'...
Product reviews for listing 2725: Nectarine White Tea

Brand Ti-Tonics
Every day we are exposed to harmful environmental toxins such as UV light and pollution. Rejuvenate and protect yourself with with our specially formulated blends, full of essential phytonutrients.

Ti-Tonics are advanced blends of natural tea extracts, fibre and plant polyphenols, designed to quench your thirst and nourish your body. Polyphenols are nature's most powerful antioxidants and protectants.

This Ti-Tonic is a sweet, yet subtle, fusion of ripe nectarine and crisp apple flavours that work to complement its white tea base, without overpowering the naturally delicate extracts.
General Disclaimer...
All trademarks, images and copyrights on this site are owned by their respective companies.
KIWIreviews is an independent entity, part of the ePLURIBUS.nz Network. This is a free public forum presenting user opinions on selected products, and as such the views expressed do not necessarily reflect the opinion of KIWIreviews.co.nz and are protected under New Zealand law by the "Honest Opinion" clause of the Defamation Act of 1992. KIWIreviews accepts no liability for statements made on this site, under the assumption that they are the true and honest opinions of the individual posters. In most cases, prices and dates stated are approximate and should be considered as only guidelines.

"Advertising: The science of arresting the human intelligence long enough to get money from it."
Stephen Leacock