Product reviews on KIWIreviews.co.nz : Wednesday 29th March 2017 - 06:50:47
Advertising...

Sick of adverts? Click here to join up for free and be rid of them.
Score:

9.3

/

10

[

4

reviews]


ProdID: 7402 - Lite Brewed Ginger Beer


Brand / Manufactured by: Barkers
Price:

$5.80

Supplied by:




Available:

Supermarkets

Samples for Review:
Lite Brewed Ginger Beer product reviews
We batch brew the ginger using a traditional fermentation. We let it sit in the back shed until the flavour has developed and before it turns alcoholic! By adding a touch of natural sweetener it means *less sugar and fewer calories.

*47% less sugar when compared to Barker's Lemon, Honey & Ginger fruit syrup.

• Gluten free
• Makes 25 glasses
• Low calorie
• No artificial sweetener
• Preservative free
• Made in New Zealand
• Shake before use - Refrigerate after opening

This Review Score:




Price:

Value for Money:

Flavour:

Personal Choice:
I love ginger beer and have fond memories of having ginger beer brewing in the laundry so that us kids could have our beer along with the adults. Now as a non drinker I often buy a ginger beer if I am at a bar. I have learnt that not all ginger beers are created equal, to the extent that I ask what brands they have before I'll part with my money.

I am a fan of Barker's syrups so I was excited to try their lite ginger beer. Being a lite drink the first thing I looked at was the ingredients. I was pleased to see that it was all natural ingredients and was sweetened with both sugar and stevia. This told me it was going to have a pleasant taste rather than the after taste artificial sweeteners tend to have.

I made up some soda water in my Soda Stream machine and poured in some syrup. I t needed a got shake to mix it the sediment at the bottom but that is something we always did with our home brew. I didn't measure but it was probably around the 1:6 ratio that was suggested. My nearly 7 year old and I both loved the taste of it and had more than one glass. In fact over the last fortnight we have almost finished the syrup bottle. It has a lovely sweet ginger taste.

I like how we can control the strength and fizziness of our drink. I have also drunk it with non sparkling water too. I am curious to try it with hot water in winter as I suspect it will make a nice winter warmer. This is a product I would recommend to others and will certainly be keeping in the house so I can have a ginger beer whenever it suits me.
This Review Score:




Price:

Value for Money:

Flavour:

Personal Choice:
With only 4.3 grams of sugar per 100ml, this is definitely a lighter beverage. The directions say the best level of dilution is one part syrup, 6 parts soda water. Soda water I guess makes sense as Ginger Beer is generally a carbonated beverage. But I've never really been a fan of soda water. So I did the next best thing. I combined it with something that I already had; Green and Co.'s Cucumber, Mint, & Lime (CM&L). The CM&L drink has lightly carbonated spring water, so it seemed like a good middle ground for me.

Even with only around 14% of the beverage being syrup, the ginger flavour is very strong, and has that heat you expect to get from the ginger. Combined with the CM&L, it provided a surprisingly enjoyable buffet of flavours, which would make a great cocktail if one was inclined to add a dash of alcohol (perhaps a white rum or vodka). The 1:6 ratio when preparing the drink felt a bit high for me. Not in regards to flavour, as it worked out great, but more in terms of quantity needed from the bottle. The full sugar varieties from barkers, seem to require far less quantity (I can just add a small splash of the lemon and barley to a full glass of water). So the bottle has a lower number of uses for me, but the price is still good, considering at some places you pay $6+ for a one ginger beer, paying less for multiple (up to 25) drinks will always be great value.

This will be a great addition for those that have SodaStream or SodaSparkle devices, and looking for a low sugar flavouring.
This Review Score:




Price:

Value for Money:

Flavour:

Personal Choice:
There are so many different brands of ginger beer available these days, but none that I have tried so far has ever measured up to the brew my aunt used to make in her wash-house using a "plant" and a lot of other smelly ingredients that fizzled and foamed alarmingly. I was never allowed too close so I never did figure out the process, but I do remember the taste - excitingly exploding in gingery bubbles in my mouth and popping all the way down to my tummy. My cousins and I used to sit on the wash-house step and pretend we were drinking real beer while the adults enjoyed the "hard stuff" - brewed in the same wash-house.

I was undecided about trying Barker's variety. Although I have tried a number of their products, and found them to be of consistently high quality, I did not think it would be possible to make a brew as perfect as my aunt's, especially when you had to get soda water and go to the trouble of shaking and mixing it as well. I tried a little with some plain water first as we did not have any soda water available, and I was quite disappointed. There again, the instructions DID specify soda water, so I thought I had better carry out the trial properly. Next day, I purchased some bottled soda water and mixed it with some ginger beer mix. None of us could believe how good it was. It tasted authentic, it had just the right balance between bubbles and smoothness, and because it was a diet version it was not too sweet. Heaven!

The really good thing was that all of us enjoyed it. There were five adults in my "test crew", including myself, and not one of us could fault it. My 22-year-old cousin, who is a beer drinker, said he would gladly drink it instead - especially if he is driving - as it is just as satisfying as a good lager. His girlfriend commented that it had a really full flavour. Another friend, who loves ginger beer and has read some of my reviews, said I had to refer to her as Ms 57 because I always refer to my younger testers in that way. She said she wanted to be identified by age too because she thought it would confirm that the drink would appeal to a wide range of ages, not just to younger people.

We used an empty water bottle to mix it so that the lid could be replaced (assuming that there would be any left). This proved to be a great way to store it because the mixture kept its fizz. Some soft drinks go flat very quickly, even when capped; I can confirm that this was not the case with this drink. In fact, Ms 57 left some in the car in the heat, remembered it after three days and a 400 km journey, took it back into the house and put it in the fridge, and it was as good as new when she tried it later that evening.

I am going to buy more of this for summer parties. I think it will appeal to anyone who is a ginger beer or ginger ale drinker, and I can also see it as being a useful mixer (when first combined with soda) for some spirits. I am so glad that I asked to test it as I might not have bought it otherwise, and that would be a pity. I am looking forward to a long, hot summer and the clink of ice in my glass as I sip my ginger beer. Hopefully any guests I invite around will leave some for me!
This Review Score:




Price:

Value for Money:

Flavour:

Personal Choice: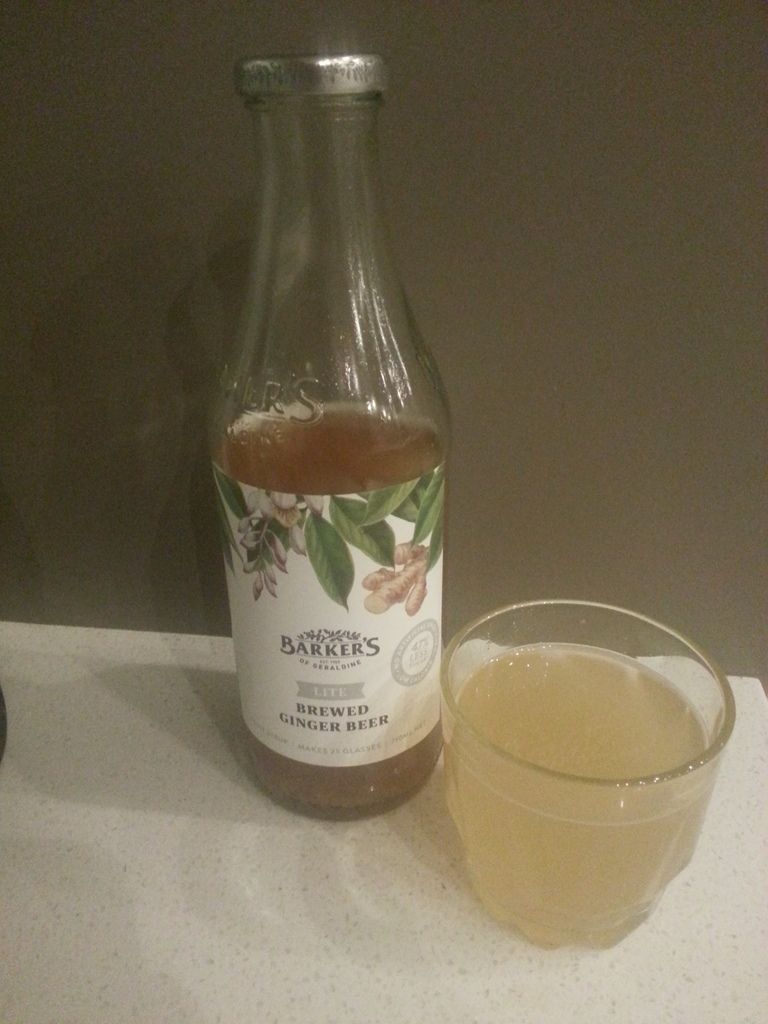 Ginger Beer isn't something I drink a lot of us, except for when I was pregnant in which case ginger seemed to be the only thing I could stomach! Although i'm not the biggest drinker of Ginger Beer myself I have a lot of family members who absolutely love the stuff, so decided to request this for review so that we could all try it out as I thought it may be a good option to have at home in the fridge for when they visit.

The fruit syrup comes in an attractive tall glass bottle with a nice eye catching label that is clean and not overwhelming. The bottle was easy to open and to pour liquid from and I love that you are able to see through the glass bottle as it allows you to know how much syrup you have left so you know when you are running low. The first thing I noticed about the syrup itself is that it contains a lot of cloudy sediment at the bottom of the bottle, however with a few good shakes this mixes well into the other liquid, the back of the label also suggests to shake this before use due to this reason.

My partner's parents who are huge drinker's of Ginger Beer were coming around for dinner and so I decided to prepare some of the syrup in advance so that I could have it chilling in the fridge ready to serve. To make up the drink was super quick and easy to do, I simply added 1 part of the Barker's syrup to 6 parts of soda water and gave it a stir. I served this up in glasses over ice and presented it to our visitors, the first question before even trying it was "what is this?" when I replied Ginger Beer they were quick to give it a sip, the reactions and comments were positive and ranged from "this is really nice Ginger Beer", to "what brand is this?". Showing them the bottle they were most surprised that I had actually mixed up the drink myself with soda water as they were expecting that it had come out of a premixed bottle. Right then and there my Mother In Law was saying she needed to buy some and she was excited about the fact that she could make her drink even more flavoursome by adding as much syrup as she needed, she did admit though that the suggested strength was fine however!

I loved that this Ginger Beer is able to adapted to suit your own tastes, although it is great just as suggested. It has a very subtle and distinct ginger taste to it which I just loved, it didn't taste to strong or artificial which I really liked. It left you with a refreshed feeling after drinking it and had a dry finish to it, not a sickly sweet one. This is great obviously served as a classic Ginger Beer drink, but I imagine it would go great in a punch, or mixed with alcohol such as Vodka.

As I love to experiment with the review products I receive I decided to take this one step further than just as a drink and added it to a Ginger Crunch I was making in place of powdered ground ginger. The syrup mixed in perfectly in both the base and the topping, although I did find that a little tweaking of the dry ingredients was needed due to the added volume of liquid. The flavours of the ginger really came through and I really enjoyed the results as did my partner and Miss 3.

Another great product from Barkers, and one worth trying out if you're a fan of Ginger Beer, which I'm sure you will find also works out to be a whole lot cheaper than buying it premixed.
Random listing from 'Beverages'...
Product reviews for listing 3602: Grey De Luxe

Brand / Manufactured by: Madame Flavour
Grey de Luxe is my interpretation of Earl Grey; true to the original, with special touches to make it a little more Madame Flavour.

Each silky pod is filled with smooth Ceylon and malty Assam leaf tea, a pinch of lemon myrtle for it's sumptuous citrus; and a sprinking of lavender flowers, whose scent is familair and timeless, just like this luxurious blend.

General Disclaimer...
All trademarks, images and copyrights on this site are owned by their respective companies.
KIWIreviews is an independent entity, part of the ePLURIBUS.nz Network. This is a free public forum presenting user opinions on selected products, and as such the views expressed do not necessarily reflect the opinion of KIWIreviews.co.nz and are protected under New Zealand law by the "Honest Opinion" clause of the Defamation Act of 1992. KIWIreviews accepts no liability for statements made on this site, under the assumption that they are the true and honest opinions of the individual posters. In most cases, prices and dates stated are approximate and should be considered as only guidelines.

"Small opportunities are often the beginning of great enterprises."
Demosthenes