Product reviews on KIWIreviews.co.nz : Saturday 22nd February 2020 - 04:20:52
Score:

9.8

/

10

[

6

reviews]


ProdID: 7384 - Diet Snapple - Lemonade Iced Tea


Brand Snapple
Price:

$3.50 / 6 sachets

Sample/s Supplied by:




Available:

via Online Store and selected quality retailers
Diet Snapple - Lemonade Iced Tea product reviews
Take a gulp. It's Diet. Crazy, right? That's the cool thing about Snapple diet teas - they're made from the best stuff on earth. Natural fruit flavours. Tea from natural green and black tea leaves, with the sweetness you'd expect from us and only 5 calories. So go ahead... take five gulps!

Easy to make directions:
• Pour one sachet of Snapple Diet into a 500ml bottle
• Fill with water and shake well with the cap on
• Tea will take approx. 2 minutes to fully dissolve
• Use a 600ml bottle for a milder flavour if preferred

Think Green - Enjoy your Snapple Diet in a reusable bottle.
This Review: 9.8/10
Value for Money:

Effectiveness:

The Taste Factor:

Personal Choice:
I have drunk most of the packet of these Lemonade Snapple teas so far. The first one I had, I did it with 750 mls of water. When I opened the packet I was surprised at how easy it was to open. It has a "tear here" instruction but it doesn't look like you could actually tear it. Yet, it was so easy to open at that point in the pack. Once open I was struck by a lemony smell. It reminded me of Lemon flavoured Smints.

In the 750 mls of water, the drink was plenty strong enough, as the little amount of powder really is powerfully sweet. I knew from trying other flavours that 500 mls would be too strong for me. Later on when my kids were around I made up a litre jug of water with my next sachet. I stirred the powder in and offered it to the kids. One of them liked it, the other was not fussed. I added some ice and thought that the extra 250 mls of water on top of the 750 mls was really even better.

As a result I have been making up litre jugs of the drink and keeping them chilled in the fridge. With the weather being so hot most days, this is a great refreshing drink to have on hand for guests and just thirsty, tired kids too. I've been very impressed. This one feels like it could be very versatile as well. It would be great as a cold drink for non-drinkers at our next BBQ. Or I could make a punch with some ginger ale, and some white wine or bubbly.

This Review: 10/10
Value for Money:

Effectiveness:

The Taste Factor:

Personal Choice:
I must admit I was a little afraid of trying this product, worried that I wouldn't like it. I received both this one and the peach iced tea in my review parcel and had tried the peach straight away as I knew that I had had peach iced tea and liked it before. This one however I was quite so sure of - maybe because it was a little unknown as to just what it was going to taste like. Knowing I needed to try it to be able to write a review I filled my water bottle and put in the powder. I used a 750ml pump bottle, so a little more water than what it suggests but I knew this had worked out fine with the peach iced tea flavour so stuck with it again.

I love that these iced tea powders are in single search sachets. The tubes are a great size to tuck into my bag for work, and it makes it so easy that there is one serve inside each tube. No need to measure it out to make sure you have the right amount. They are easy to open. I tore the packet along the "tear here" line and tipped it in. My husband was in the room as I was doing this and his response was "what is that?" said in a tone that was a little disgusted. And looking at it you can see why! It certainly isn't the nicest looking drinks, especially when the powder has formed clumps and not dissolved correctly. I gave the bottle a good shake and left it to sit for about five minutes to let it all dissolve.

As I took my first sip I was pleasantly surprised. You certainly can't taste any kind of tea flavour. In fact what you can taste is a very pleasant lemonade flavour. It isn't strong, but is definitely strong enough. I think that if I had mixed it in the 500ml suggested it would be too strong, the 750ml bottle is perfect. I enjoyed this one so much that the bottle was empty within half an hour, and that was with making myself put it down here and there only so that I wouldn't skull it all in one hit!

I will definitely have to make an order to get myself some more of the Diet Snapple drinks as they are certainly yummy! They would be perfect on a hot summers day poured over some ice cubes.
This Review: 10/10
Value for Money:

Effectiveness:

The Taste Factor:

Personal Choice:
I decided to try the Diet Snapple Lemonade Iced Tea flavour, the last one I tried I found to sweet and had been putting of trying the other flavours until now. Wow now that I have tried this flavour I am hooked and am on my second one already for the day. This flavour combination on half and half mixed between lemonade and iced tea is so good. Not too sweet either which I like as the last flavour I tried was way too sweet for my liking.

I really enjoy the mixture of tastes this lemonade iced tea provides, the lemonade hint is enough to enjoy the flavour but is not over powering or not enough it is just right. I am a big fan of iced tea and regularly buy ice tea from shops, so this product is great to make at home and for a fraction of the price. I really enjoyed having it super cold, I brewed it up with cold water and added some ice cubes later. I found this helped with my cravings as well. I drunk one bottle in the morning before breakfast and had the next bottle in the afternoon before a workout.

I find these are easy to drink and also help with the daily intake of water. I know I am shocking at drinking enough water during the day and it is something I am really trying to work on to drink more water. I noticed with this product I skulled a whole 750ml bottle in like 3 minutes. So I feel due to this it is a bonus as even though its flavoured water it is still good for you. I am looking forward to trying the next flavour now that I am hooked on this lemonade iced tea. For the price of the box it is cost effective and would be a great add to the weekly shop.
This Review: 10/10
Value for Money:

Effectiveness:

The Taste Factor:

Personal Choice: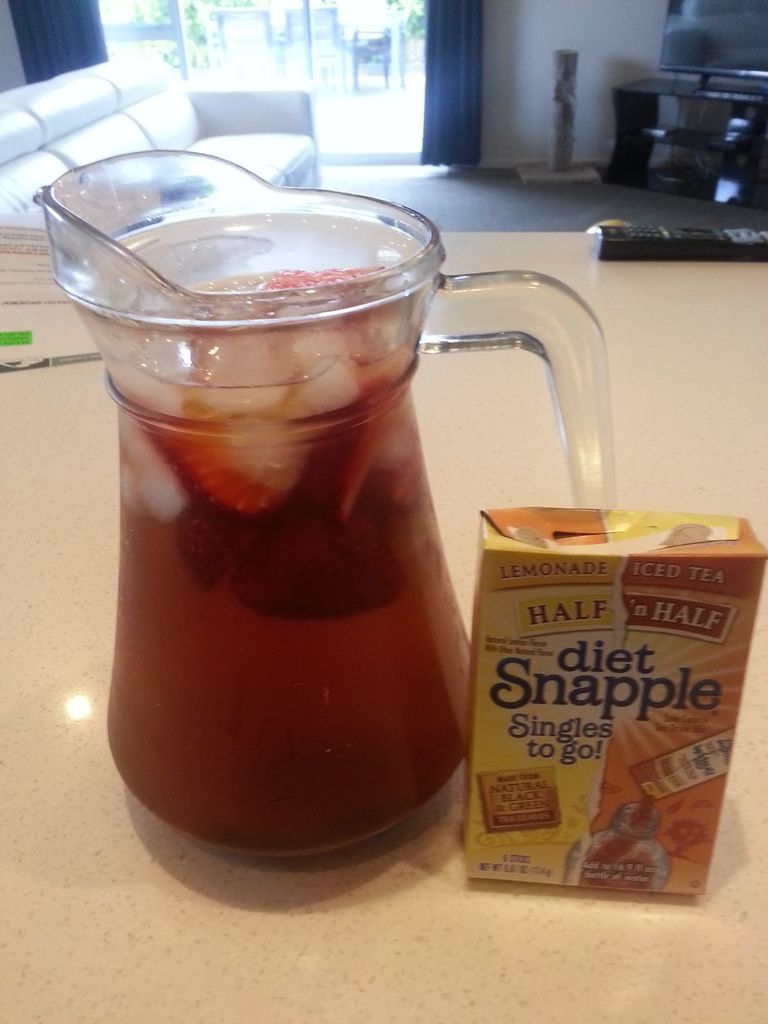 Snapple was one of my absolute favourite things to drink while I spent 5 weeks over in USA many years ago now, it was perfect to have on hot summer days while we were out and about exploring. I was super excited when I saw that we had received Snapple as a product to review and of course requested it straight away. Being in powdered form I wasn't sure how it would compare to the premixed Snapple that I had previously drunk, but I knew it was well worth trying out!

Each box of Snapple contains 6 individual single sachets, and although these look ridiculously small they are actually packed full of flavour! The directions are easy to follow, simply fill a bottle up with 500mls of cold water and then add the snapple powder, pop the lid back onto the bottle and shake, shake, shake. I must admit that it did take some shaking to get the powder to dissolve fully! Upon trying the Snapple for the first time as per directions I found it to be very sweet, almost to sweet and so I decided to add more water to my drink bottle, filling it up to the full 750ml mark which was much better. This drink was delicious and brought back fond memories of the Snapple I enjoyed in USA, my 3 year asked for some and said it was "delicious", and my partner who isn't a tea drinker at all said it "wasn't bad".

The flavours of both the lemonade and tea were definitely there and they worked perfectly together, however I did think that perhaps a little bit to much sweetener was perhaps added, mind you this wont stop me from drinking this. Being in such convenient little sachets makes these great for throwing in your lunchbox or bag to take with you to work. I loved the ease of opening these up by simply pulling the packet across where marked and loved the addition of the little facts on each sachet such as "only male fireflies can fly", this I didn't know, so you can learn something new on each packet.

We had some friends over for a barbeque and so I decided to mix up a jug of Snapple, but using sparkling water, ice and chopped up strawberries to make it more like a punch. This worked well and I loved the combination of the snapple mixed with sparkling water doe something different, the addition of strawberries also gave a really nice flavour and made the drink look visibly more appealing than the usual tea colour. Everybody raved about this and loved the taste of it even the children who ranged in age from 18months to 6years old.

Will I be buying this again YES definitely, infact I have already done so this is a great product at a great price and is going to be perfect for drinking over Summer, especially as I get easily bored of drinking water.
This Review: 9.5/10
Value for Money:

Effectiveness:

The Taste Factor:

Personal Choice:
I've heard of Snapple, but no idea what it was. Looks like its a brand of iced teas, much like our "Fuze", or "Lipton" Ice Tea brands. But the main appeal for me with this product was a simple additive (read: flavouring) to water that was low in calories. I'm trying to to have a healthier diet, so drinking a lot of water and less energy drinks is a big part of it. Unfortunately I have an extreme dislike of the flavour (or lack of flavour) of tap water. but everything is full of sugar.

Looking at the ingredients, it is far from a natural, unprocessed product, with plenty of sweetening additives to replace sugar (citric acid, tartaric acid, aspartame, maltodextrin etc.). That being said, it is still impressive to have enough product to make a very strong flavoured 500mL drink with only 5 calories in it. Very impressive.

The instructions are printed in American. By that I mean it tells you to add a packet to a 16.9 fl. oz. bottle of water, or a 20 fl. oz. bottle for a milder flavour. This translates to 500mL for normal strength, or 590mL for a weaker drink (obviously just add more water to dilute it and make it weaker). I poured a packet into a 650mL bottle, so I was expecting a rather weak beverage to test. I ended up rather surprised. Pouring it in, it looked quite unappealing, like I was pouring fine coffee bean grinds into the bottle. it ended up taking about 20 minutes for most of it all to dissolve, so I'd recommend sing room temperature water to dissolve then adding ice to cool it down. And in the end it looked dark and murky, almost like a flat cola.

That's how it tasted too. Like a lemon cola, which I suppose is pretty similar to a lemonade iced tea. The lemon flavour was very strong, well, the whole flavour was very strong, even adding it to a bottle with more water than specified for a weak drink. I'd personally pour one of these packets into 800mL, or 1 L for a weak flavour. In the 650mL bottle is was still strong enough that it took me a long time to drink as I had to drink other beverages in between to dilute the flavour. But again I am impressed by the strength as it only contains 5 calories. Great value for me to be able to make up to 10 litres of flavoured water consisting of only 50 calories combined, for only $3.50. Great value!
This Review: 9.8/10
Value for Money:

Effectiveness:

The Taste Factor:

Personal Choice:
This is the second flavour I have tried in this range, and I think this one is going to be hard to beat. I tried it out on a group of friends but did not warn them in advance what they would be getting - I just gave each of them a glass and waited for the reaction. I had chilled the water before mixing, and we were sitting in their garden as it was a hot day, so it seemed like a perfect opportunity to test it. I had previously tried it myself and liked it, but I am aware that others do not always share my preferences.

The comments were all favourable, which surprised me as this particular group consists of people who all have different tastes and we frequently disagree on what we like in a food or drink! Everyone thought that the balance of flavour and sweetness was just right; the sweetness was not too intense, and there was none of that metallic taste that you sometimes get with diet drinks. At the same time, the lemon flavour was certainly present. It was just that it did not dominate, so the end result was not too acidic.

One of my friends did mention that there was a slight aftertaste that he could detect. Not that it was unpleasant; he said rather that his taste buds were slightly confused as he initially thought the drink tasted of lemonade iceblocks, then it seemed to change to black tea with lemon added. But his overall impression was that this was a drink he could enjoy again, and it would be an excellent thirst quencher for a hot day.

Another friend (the youngest present, aged 17) mentioned that she really enjoys fizzy drinks and would like to see how it would go with soda rather than plain water. I had not thought of doing that, but she said she got the idea from the way the drink appeared to froth when I shook the container to mix it, and so she had expected that the result would be fizzy rather than flat. Personally, I don't mind whether a drink has bubbles in or not, but I do intend to take her up on her suggestion and try it with soda water myself next time.

On balance, I am satisfied that everyone did enjoy it. It is always a good sign when someone holds out their glass for a refill, and we ended up finishing the entire jug full. I had mixed three sachets to make a litre and a half, and it took exactly five minutes for the lot to disappear. Next time I serve it, I am going to add some fresh mint leaves to the jug. But even without the decoration it was a winner.
Random listing from 'Beverages'...
Product reviews for listing 4511: Gourmet Cafe Noir

Brand / Manufactured by: Organo Gold
Organo Gold's Gourmet Black Coffee is sure to attract and awaken your senses. Its dark smooth taste and deep aroma infused with authentic Ganoderma introduces coffee lovers to a new and delicious alternative. With OG's Black Coffee, instantly enjoy the taste of freshly brewed coffee.
General Disclaimer...
All trademarks, images and copyrights on this site are owned by their respective companies.
KIWIreviews is an independent entity, part of the ePLURIBUS.nz Network. This is a free public forum presenting user opinions on selected products, and as such the views expressed do not necessarily reflect the opinion of KIWIreviews.co.nz and are protected under New Zealand law by the "Honest Opinion" clause of the Defamation Act of 1992. KIWIreviews accepts no liability for statements made on this site, under the assumption that they are the true and honest opinions of the individual posters. In most cases, prices and dates stated are approximate and should be considered as only guidelines.

"Do married people live longer than single ones or does it only seem longer?"
unattributed