Product reviews on KIWIreviews.co.nz : Sunday 22nd October 2017 - 02:50:50
Score:

10.0

/

10

[

2

reviews]


ProdID: 7343 - Pig the Elf


Author: Aaron Blabey
Price:

$21.00

Samples Supplied by:




Available:

December 2016

Buy it:

Samples for Review:
Pig the Elf product reviews
Much loved Pig the Pug does not quite grasp the Christmas spirit. He has written a very, very, VERY long list of demands for Santa and refuses to go to bed, instead he stays up late so he can watch all his loot get delivered. He is about to get taught a hilarious wee lesson. Parents and kids will love reading this book. It raises a great message in a gentle funny way. Illustrations will delight.
This Review: 10/10
Price:

Value for Money:

ReReadability:

Personal Choice: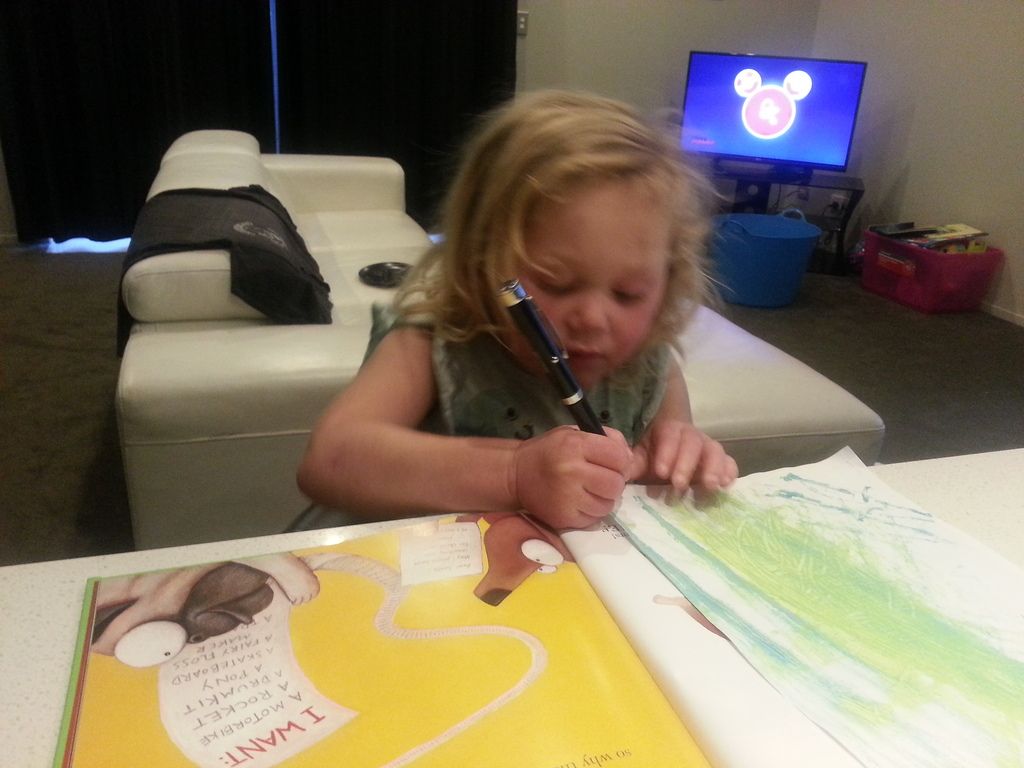 Pig the Pug, or in this case Pig the Elf, is a favourite in our house! Miss 3 loves all of Pig's crazy antics and his humorous behaviour so she was of course delighted to see that I had brought home a new Pig book to read with her, and even more so to see that Pig was infact wearing a Christmas hat!

The first time reading this book I had to have a wee giggle as Pig reminded me so much of my daughter last Christmas Eve, as like Pig she didn't want to sleep or stay in bed, instead she wanted to sneak out continuously hoping to catch a glimpse of Santa or to find her presents out under the tree. This book has become an absolute favourite in our house with us having to read it at least once a day, luckily it is such a great book that I don't mind reading it over and over, this is muchly due to the humour that is used throughout the story such as 'Oi' shouted Pig, 'I'm not done with you, chum!'. This book had a lot of words in it that Miss 3 questioned me about such as 'galoot' and 'chortle' as these words which she wasn't familiar with, to be honest I love it when books pose such questions as it is a great way to extend a child's vocabulary.

I shared this book at daycare with the children I teach and they also loved it and were drawn into the book by Pig's humour and antics which provided lot's and lot's of laughs, they particularly loved it when Pig nipped Santa on the bum! Although there were several children who were also concerned that Santa may not be okay to deliver their presents. The staff loved it and we have already added this to our list of 'need to buy' books for the centre to join our other Pig the Pug books which are so very well loved.

Although this is a super fun book it is also important to look at the hidden message contained in the story of not being greedy and to be grateful for what you have received at Christmas as Pig soon learnt nearer to the end of the story. This has been a great discussion for me to bring us with MIss 3 who wants, wants, wants everything that she sees on tv! To solve this we agreed to sit down and write a list for Santa, just like Pig had done in the book.

A beautiful book full of gorgeous pictures, which i'd totally recommend for either adding to your Pig the Pug or Christmas collection, would make a great read on Christmas eve.
This Review: 10/10
Price:

Value for Money:

ReReadability:

Personal Choice:
Both of my girls are obsessed with pugs. I blame their love of Dan TDM on Youtube, who has pugs. Okay, so I also think they are pretty cool dogs. When my youngest saw this book's cover she was automatically drawn to it. She thought that Pig looked very fun. She liked his Santa hat and she was excited to have the story read to her.

We sat down together and I read through the story. Miss four was thrilled about the idea of making a list of Santa but she thought that Pig was being very mean with all his demands. She got a bit cross with him at one point and shook her finger at him. The book is very funny too though and she got the uncontrollable giggles towards the end. I had to re-read it a few times before she would go to bed.

Over the course of the week, she would race me to her bedroom to make sure I selected this book to read. I was not allowed to read anything else. Eventually I managed to smuggle the book out of her room and into her sister's room. Miss 9 squealed when she saw the cover. "Oh , it's that naughty Pug! I know this guy. Not this book, but this guy I know. He has a friend who is lovely and he is not very nice at all."

As we were reading she pointed out lovely Trevor and shook her head in dismay over Pig's antics. At the end she wanted me to re-read the Christmas list Pig made. She thought he was being very greedy and that he should be grateful for the gifts he got. So the book has a good moral too. This one has definitely been a favourite here. We might have to seek out the other Pig books.
Random listing from 'Books'...
Product reviews for listing 3275: My New Zealand Story - Here Come the Marines -
Author: Lorraine Orman
It is 1943 and Lillian is brassed off. Until now she was like any normal city girl - at least, as normal as you can be when there's a terrible war going on and your father is away fighting. Then a spot is found on Lillian's lung - tuberculosis.

Before she knows it, Lillian is packed off to recover on her grandparents farm in Whangateau, near Warkworth. With no friends, and only her preening older sister Joyce and their grandparents ... more...
General Disclaimer...
All trademarks, images and copyrights on this site are owned by their respective companies.
KIWIreviews is an independent entity, part of the ePLURIBUS.nz Network. This is a free public forum presenting user opinions on selected products, and as such the views expressed do not necessarily reflect the opinion of KIWIreviews.co.nz and are protected under New Zealand law by the "Honest Opinion" clause of the Defamation Act of 1992. KIWIreviews accepts no liability for statements made on this site, under the assumption that they are the true and honest opinions of the individual posters. In most cases, prices and dates stated are approximate and should be considered as only guidelines.

"Politics is not a bad profession. If you succeed there are many rewards, if you disgrace yourself you can always write a book."
Ronald Reagan (1911 - 2004)