Product reviews on KIWIreviews.co.nz : Monday 9th December 2019 - 22:56:30
Score:

10.0

/

10

[

2

reviews]


ProdID: 7301 - I'm Wild About You!


Author: Sandra Magsamen
Price:

$14.00

Sample/s Supplied by:




Available:

September 2016
I'm Wild About You! product reviews
Babies and toddlers will love holding, touching and reading this book, which has innovative touchable felt pieces on the cover and engaging and unique artwork on the inside. A wild and wonderful way to tell little ones how much they are cherished.
This Review: 10/10
Price:

Value for Money:

ReReadability:

Personal Choice: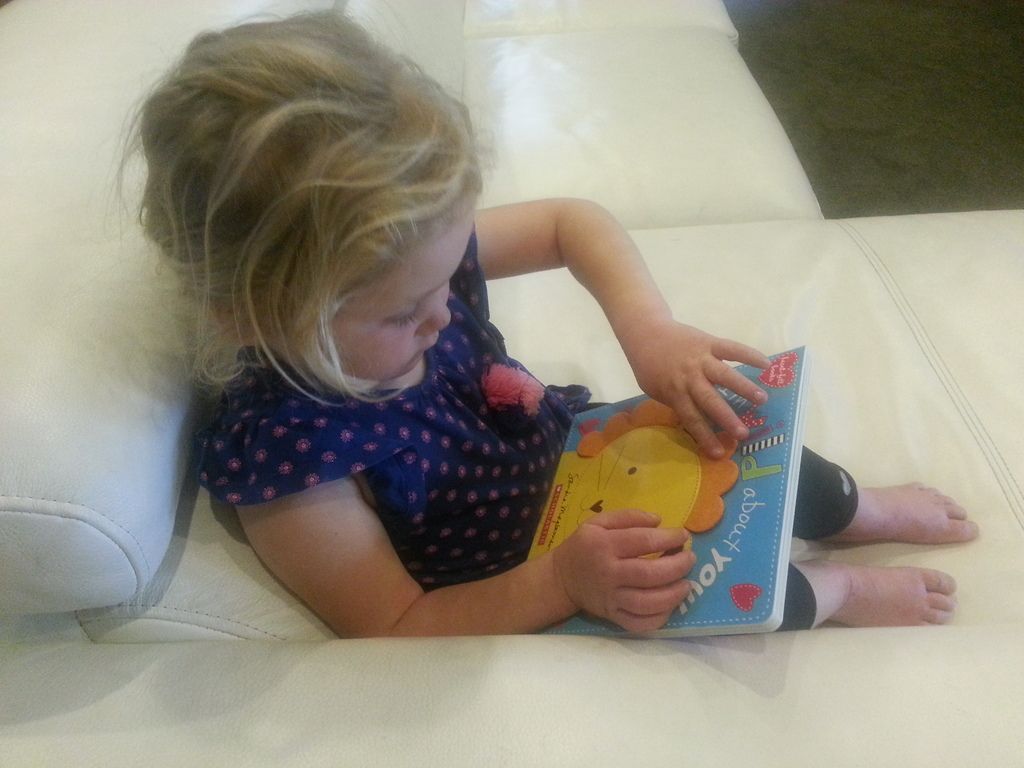 Being an Early Childhood Teacher who works with infants most of the time I am always on the look out for new, good quality children's books that will last more than a day, one's that can be chewed on and pulled at without being teared and ripped. For this reason board books are the obvious choice for when it comes to buying new books, however finding board books that are fun to read and which have exciting graphics can sometimes be a challenge. When I saw 'I'm Wild about you!' up for review I knew that this looked like a book which my daycare children would fall in love with, not only was the front cover of a gorgeous little lion, but it also had a felt mane, which I really liked as touch and feel books are always such fun for children of such a young age to explore.

I took this book along to work with me and straight away the children's faces lit up with delight they loved pointing at the different animals on each of the pages, and their faces were full of smiles as we read and looked through the book together. Some of the older children who I look after (almost 2 year olds) loved this book as much as the younger infants, they loved pointing to the animals and asking "what's that?" and then repeating the animal names after me, they also loved naming the bright, bold colours used on the back of each page and talking about the different shapes in the background of each page such as stars, clouds and flowers.

My 3 year old has also loved this book, she is a huge fan of animals and the zoo is a place we visit regularly so she could really relate to the animals in the book. We have read this book several times over and over now and she has also spent many hours looking through the book on her own, I was quite excited the other day to hear her actually saying the words in the book word for word as she turned the pages, which also made me think that this book could be great as an early reader book due to its simplicity.

The pictures in the book are absolutely gorgeous, not to detailed but at the same time bright, bold and colourful. I love the stitched look that features on the outside of each picture and also the fun fonts that are used throughout the book in particular the rainbow, patterned action words used to portray what each of the animals in the book are doing, such as waddling and stomping.

All in all this is a neat little book which is perfect for younger children, it is durable and made of strong card, perfect for little hands, and one which I would buy as a baby shower gift. It has spent the last week on the book shelf at my daycare and it is proving to be an absolute favourite.
This Review: 10/10
Price:

Value for Money:

ReReadability:

Personal Choice:
When I was a child myself, I had a copy of "The Little Gingerbread Man" which had lots of illustrations that had fuzzy bits for the gingerbread body and tiny buttons for the eyes and tummy. I often wondered in later years just how safe those buttons might have been, but at the same time I never forgot the sheer pleasure of running small fingers across the fuzzy surface. It gave a whole new dimension to just listening to a story and looking at the pictures.

Of course, that book was passed on to another child many years ago, but you can imagine my delight when I found I was to review "I'm Wild About You". That same fuzzy effect is used on the cover and I immediately had an instinctive urge to touch the lion's mane just to relive that magic effect. And yes - the sensation was exactly the same so many years later!

I could not wait to share it with our twins. Before I had so much as opened the book, the girls had bundled on to my knee and were doing the same thing that I had done - stroking the fuzzy bits and giggling together. I had to wait for them to get over their exploration before I could actually open the book to share the story with them!

I liked the fact that this is a board book. Teina in particular can be quite enthusiastic with her toys, and this edition is designed to stand up to a little toddler-bashing. The pages are sturdy and eye-catching, so even when she wanted to turn the pages herself there was no likelihood of damage. Tuakana was more content to sit back and admire the pictures.

On the first reading, we took a long time because we had to stop at the end of each page and copy the actions. Monkeying around came easily; we just made silly faces at one another and made monkey screeches. The next page featured an elephant so we all stood up and stomped around the room just as the elephant did in the picture. We remained standing for the next page as that was all about waddling, and that was great fun because we all laughed at one another. Finally, the lion roaring meant we could all sit down again and make lots of noise.

The message of the book is to let little ones know just how much they are loved. When we read the last page, we talked about how family all love each other and Teina decided to be cute and throw her arms around her sister, giving her a big kiss on the cheek. All in all, the book was highly successful and pitched at just the right level for the twins. An added bonus is that the pictures speak for themselves, so they will be able to "read" the book on their own when there is no useful adult available!
Random listing from 'Books'...
Product reviews for listing 4681: The Pirate Company: On the Trail of the Golden Toucan -
Written by: Susan Cason
This is the story of Tom Applecross, who found himself all alone in the world.
Till he met up with a gang of pirates.
Some would say, Any port in a storm.
Others would say Abandon ship while you've still got the chance!
Tom, rightly or wrongly, saw it as his lifeline.
General Disclaimer...
All trademarks, images and copyrights on this site are owned by their respective companies.
KIWIreviews is an independent entity, part of the ePLURIBUS.nz Network. This is a free public forum presenting user opinions on selected products, and as such the views expressed do not necessarily reflect the opinion of KIWIreviews.co.nz and are protected under New Zealand law by the "Honest Opinion" clause of the Defamation Act of 1992. KIWIreviews accepts no liability for statements made on this site, under the assumption that they are the true and honest opinions of the individual posters. In most cases, prices and dates stated are approximate and should be considered as only guidelines.

"Sometimes only those who love you can tell you what you need to hear, instead of what you want to hear."
anonymous