Product reviews on KIWIreviews.co.nz : Sunday 15th December 2019 - 17:33:17
Score:

9.9

/

10

[

5

reviews]


ProdID: 6876 - Colouring Crush


Brand / Author: Klutz
Price:

$23.00

Sample/s Supplied by:




Available:

March 2016
Colouring Crush product reviews
Unleash your inner artist with Coloring Crush. The set includes everything you need to make dreamy, just-add-colour works of art. And, for those who can't find the pointy end of a pencil, it includes a simple, introductory how-to guide includes a crash course in using coloured pencils, blending and layering, colour scheme inspirations and artist-approved techniques. It's everything a budding artist could want!
This Review: 10/10
Value for Money:

Clear Instructions:

Clear Diagrams:

Personal Choice:
My 14 year old has really started to enjoy this more adult intense colouring books, she has a few now and this one by Klutz is really great. It has a variety of pictures in the book to colour some easier than others and some with a lot of detail to colour. This worked really well for us as my 4 year old also wanted to share with his sister when the book arrived.

This was actually made easier by the fact that the pages are removable so she could take out some of the easier designs for her brother to colour in to avoid risking him ruining some of her own designs. You got 6 coloured pencils with the book each with 2 colours as they were double ended with one child this is perfect but with the two of them they always wanted to use the same colours at once mind you my two would find anything to squabble about.

Some of the pages had easy designs like sunglasses that were easy for my 4 year old so I liked that the book could suit different levels of colouring ability. Although the designs are predominantly girly my son didn't seem to mind. The pages are really good quality thick paper/thin card so you can easily use felt pens without the ink running through to the pages underneath this is really good as some cheap colouring books can be terrible for this. We also found we could use water colour pencils without the paper turning too wet and messy.

I do love klutz quality and these kits always provide a good level of entertainment I was impressed with Colouring Crush and would love to see other editions made. These make great gifts!!
This Review: 10/10
Value for Money:

Clear Instructions:

Clear Diagrams:

Personal Choice:
I have been getting into colouring more in the last seven months and I like Klutz products as they generally have easy to follow instructions for everyone.

Straight away I was pleased to see that this book comes with 5 pencils but 10 colours due to them being double tipped. I was concerned about the quality of the pencils but trying them out, I found that they were just as good quality as the expensive artists pencils that I already had, and the added beauty of this book design is that the section the pencils are held in, can be continued to be used, meaning that you won't' loose the pencils if you put them back away. I would, however, have liked the addition of a pencil sharpener, something that would require a dollar or two added to the cost, but having it as part of the kit would be perfect. I will add that I find this perfect for taking everywhere due to the pencils being contained with the book.

Whilst I know the basics on how to colour already and how holding the pencil in different ways creates different shades, that creating your own patterns are good for filling in gaps and so on, my kids are still learning these strategies. The suggestions are written short and simple, perfect for the budding reader, but also illustrated so even my five year old could understand the different ideas showcased. My eldest particularly liked the 'build a rainbow' page which shows nice and clearly which colours to combine for a new colour and helped him see that there were far more options than just the 10 colours provided.

I have finished four pictures so far and I'm working on a fifth picture. I have found the ideas on the first few pages to be a good reminder that sometimes leaving a section white can enhance a picture and that sometimes one or two colours can be just as stunning as using the whole rainbow. I love that you can remove the pages from this book, works wonderfully when all three kids want to colour in at the same time, and we're not just limited to big pages, some split into two and some into four. Being a ringbinder style book makes it way easier to get to all the edges and I love not having the book trying to close on me.

The four of us have loved using this book and we're hoping that they bring out a second version.
This Review: 9.3/10
Value for Money:

Clear Instructions:

Clear Diagrams:

Personal Choice: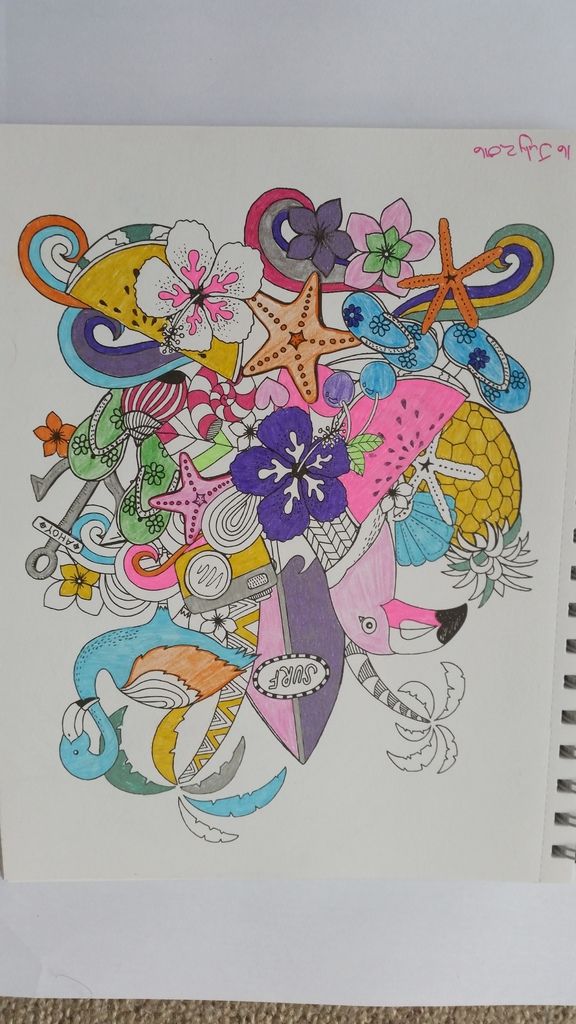 My boys school recently did a book week where you can buy books and support the school so I did. I noticed the front cover was cute and colourful and as I paged through the book I really could see myself adding colour to the pictures. I was happy to see that five double sided colour pencils were included but they forgot about a sharpner.

I have used the pencils and found them to be nice and bright and I hardly had to press hard to get a good even bright colour but when I had to sharpen the pencils I was most disappointed to find that the lead kept breaking so that I had to keep sharpening the pencil until it was really short so not much value when you consider how much of the pencil was wasted. I have also used gel pens and found that there was no bleeding through the pages which was great, tried using liquid highlighter and same result but when I tried some permanent marker it did bleed through the page.

I really liked how the designs were easy so that young artists can join in and that the pages can be removed from the book without other pages becoming loose. The spine allows colouring right to the edge of the page so that means there is not a bit of the picture that remains white due to not being able to reach it easily.

I'm not normally a Klutz fan but I really love this book.
This Review: 10/10
Value for Money:

Clear Instructions:

Clear Diagrams:

Personal Choice:
Excited does not even come close to describing my feelings when I opened the review package and saw the Colouring Crush book by KLUTZ - Miss nearly 7 and Miss 4.5 were almost ( not quite but nearly ) more excited than me !!!

This colouring book is so much more than that - it is a colouring in "Kit". It comes with 5 double ended colouring in pencils - giving you 10 colours in total. The pencils have a storage case on the front of the book - meaning no lost pencils or time wasted that could have been spent colouring !!!

The quality of this kit is very high - all parts of it are well constructed and well thought out. The coloured pencils are ones that colour well and are able to withstand a rough-ish 6 year old pushing down on them without constantly breaking. When you sharpen them ( sharpener not included ) they do not break either - elimination that frustration.

The book starts with a great go to guide - handy hints and tips for art and colouring - things like blending colours, what colours to mix together to make others, colour scheming - for example choosing to colour in a particular hue, how to make different pencil lines, even how to hold your pencil. My 2 girls ( 7 and 4 ) really liked the hints and tips - and I will admit that it twigged a few things in my memory about colouring too.

The cover of the book is nice and sturdy - meaning it can be coloured in without needing a hard surface to lean on - perfect for in the car, on carpet, at the beach and more. The pages are a good thick quality - and you can colour with felt tip pens, coloured pencils provided, pencil type crayons, or even water colour pencils like I enjoy using, without going through the pages.

The best bit about the pages though is that the pages detach from the actual book - so after you have coloured the page you could frame your piece, laminate it, or many many other choices. It also meant for me that both my budding colouring in fans could have a page as well as me!! There is plenty of variety in the book also - my girls loved the postcards whilst I prefer the designs rather than "pictures".

This book is for ages 8 and up - but I absolutely think that younger kids can use it too - probably from the 3.5 or 4 year old age up to the "8 at heart". Being that it has everything ( almost ) included - I would team it with a cute sharpener, maybe some amazing glitter felts, and it would make anyone smile!!
This Review: 10/10
Value for Money:

Clear Instructions:

Clear Diagrams:

Personal Choice:
Miss 7 loves colouring in so when she saw Klutz's Colouring Crush in the pile of books available for review she begged me to get it for her. She is getting to an age where many of the colouring in books are too babyish for her but she still wants to colour. Most of the adult colouring books out there are too busy for her or the pictures are too big for her attention span.

To say this book was prefect for us (not just her, but me too) would be an understatement. The kit comes with 5 double ended colouring pencils which gave you 10 colours to use. The pencils were great quality ones whose lead never broke and were easy to sharpen. The pencils had a handy storage case so everything was kept together. This makes it great for taking with you on holiday, to appointments or keeping in the car. The board backing is sturdy enough you can colour on the carpet or if you were stuck on your lap. The only thing we needed to provide was a pencil sharpener, everything else was there for us.

One handy feature was the pages are perforated so you could tear out your page. This was great when we were both wanting to colour at the same time and also for displaying your finished work. Several of the pages had smaller pictures that were designed to be used as gift tags or postcards. These were also good when time was limited. The first few pages have suggested colouring techniques which although we read we didn't use these when we were colouring. Some people might find this handy, but others like us can just do our own thing.

This book would make a great gift for your 8-12 year old although an adult that wants something a bit easier than all the adult colouring books would enjoy it too. I know I did. I finally found what this colouring craze is all about. It is both relaxing and rewarding. It is something you can do by yourself or with someone. My daughter and I did lots of chatting while we were colouring which has got to be good for our relationship.
Random listing from 'Books'...
Product reviews for listing 6340: Avengers: Age of Ultron Poster Book -
Brand / Author: Marvel
Join Earth's Mightiest Heroes as they battle to save humanity from the fearsome artificial intelligence Ultron. Read about each Avenger's super skills and high-tech weapons, put these stunning posters on your walls and join the battle to save the Earth! Packed with awesome movie posters, including a giant pull-out poster and over 30 stickers!
General Disclaimer...
All trademarks, images and copyrights on this site are owned by their respective companies.
KIWIreviews is an independent entity, part of the ePLURIBUS.nz Network. This is a free public forum presenting user opinions on selected products, and as such the views expressed do not necessarily reflect the opinion of KIWIreviews.co.nz and are protected under New Zealand law by the "Honest Opinion" clause of the Defamation Act of 1992. KIWIreviews accepts no liability for statements made on this site, under the assumption that they are the true and honest opinions of the individual posters. In most cases, prices and dates stated are approximate and should be considered as only guidelines.

"Who was the first person to say, 'See that chicken there... I'm gonna eat the next thing that comes outta it's bum.'"
unattributed