Product reviews on KIWIreviews.co.nz : Wednesday 19th February 2020 - 01:42:31
Score:

9.8

/

10

[

1

review]


ProdID: 6716 - The Legend of Longwood


Director: Lisa Mulcahy
Price:

$29.99

Sample/s Supplied by:




Available:

October 2015
The Legend of Longwood product reviews
The Legend of Longwood is a thrilling and magical adventure for the whole family about a young American girl, Micky Miller; destined to release a small Irish town and its people from an ancient curse. To succeed, Mickey must redeem a ghostly Black Knight from his long quest and single-handedly save a magical herd of horses from a ruthless woman with evil plans.
Other listings you may be interested in:
This Review: 9.8/10
Pay to see it again:

Attention Span:

Believeability:

Personal Choice: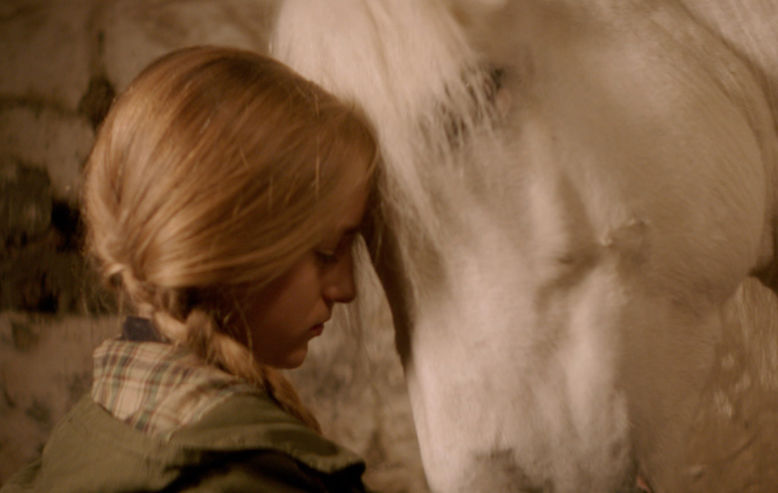 A good family movie can sometimes be hard to find, especially one that doesn't feature a romance for the main character or a perfect ending. The Legends of Longwood follows Mickey as she moves from New York to a small Irish village after her mother gets a letter informing of a house that has been left for the family. Soon, Mickey makes a friend and discovers a mystical mystery and a human deception... Mickey is wonderfully written, she's believable and she isn't soppy or sickly. Almost all the characters were believable, the only one I didn't really feel was real was Chardonnay.

This film features seven gorgeous white horses, and they are quite stunning, something which thrilled my youngest child, the scenery is also something quite lovely and somewhere I wouldn't mind visiting. There isn't a huge amount of special effects needed in this movie but what is done is done very well and all melds in well in the film. With two main sets, Mickey's house and the castle, I was very pleased to see that Mickey's house doesn't undergo a magical transformation from needing a major DIY do over, and the castle is nice but not amazing and suits everything well.

If you want a movie that sugarcoats things and gives us that happily ever after feeling or a beautiful romance then this isn't what you're looking for. Quite early on we learn of her father who went missing, presumed dead, and an accident involving Mickey, not only that but another death, a accident and no perfect ending means that take away the magic, and you have a very real story. A huge!!!! thing that I love about this film is that Mickey becomes friends with a local boy, Colin, and they stay just that and no hint of a romance between them, as well as Colin having an imperfect home life and once again, no perfect ending.

The story starts off slow and takes its time building, no rushing into everything and Mickey has to solve the mystery, we don't get a tonne of action nor is there any major violence, none that doesn't fit in with the film and its story. As I said above, there was only one character that I didn't fully believe, and that was the only aspect of the movie that I felt could have been done better. I watched this with my children and mother, and the only one to nod off was my daughter and that was only due to exhaustion. Everyone was hooked and my son had a hundred and one questions about the film at the end, this to me showed that it wasn't just mindless fun, he was hooked!

One of the best family movies I have watched in quite a while and I am so glad to have this to own.
Random listing from 'Movies'...
Product reviews for listing 3851: Looper

Directed by Rian Johnson
In the future they will invent time travel, but it will be illegal, and only the crime syndicates will use it. what better way to hide a body than to send it 30 years into the past?

Joe (Gordon-Levitt) is a 'Looper', one of the best - a hired gun recruited by the mob to do one thing, wait for a target to be sent back in time, make the kill and dispose of the body. He's getting rich and life is good, until one day the ... more...
General Disclaimer...
All trademarks, images and copyrights on this site are owned by their respective companies.
KIWIreviews is an independent entity, part of the ePLURIBUS.nz Network. This is a free public forum presenting user opinions on selected products, and as such the views expressed do not necessarily reflect the opinion of KIWIreviews.co.nz and are protected under New Zealand law by the "Honest Opinion" clause of the Defamation Act of 1992. KIWIreviews accepts no liability for statements made on this site, under the assumption that they are the true and honest opinions of the individual posters. In most cases, prices and dates stated are approximate and should be considered as only guidelines.

"Fiction is obliged to stick to possibilities. Truth isn't."
Mark Twain (1835 - 1910)