Product reviews on KIWIreviews.co.nz : Tuesday 25th February 2020 - 21:04:56
Score:

8.9

/

10

[

3

reviews]


ProdID: 6552 - Crema di Parmigiano Reggiano al Tartufo


Brand - Calzetti
Price:

$11.30

Sample/s Supplied by:




Available:

via Online Store
Crema di Parmigiano Reggiano al Tartufo product reviews
Cream of Parmigiano Reggiano with Truffle.

Ingredients:
Parmigiano Reggiano, water, milk cream, melting salt (Sodium Citrate), Truffle.

Available exclusively from souschef.co.nz
This Review: 9.0/10
Taste:

Texture:

Value for Money:

Personal Choice:
Please view the following review with this in mind: I am not a great fan of fungii of any kind. Truffle is a type of fungus. I find that most fungus flesh tastes too earthy for my tastes. I'm trying this because I took on the commitment to do so.

Now that I have set my position clear... I LIKED THIS! Not a huge amount, for sure, but I actually did find this went really well on top of a basic Spaghetti Bolognese sauce with capsicums, onions and fresh garlic. I was hesitant, I was nervous, I was also really worried I was going to waste an entire portion of my favourite meal... I had nothing to stress about as it turned out, because the flavour was a great partner.

The flavour of Parmesan cheese is always a good partner with Italian food, but as a cream cheese? That was the gamble, and it was worth it. The hint of truffle worked in a similar way to having mushrooms in the sauce - which is also fairly traditional in some regions of Italy. The cream cheese aspect simply allowed it to melt through the sauce and spaghetti, helping to bind them together - and be honest, nothing beats that feeling of fresh spaghetti when the bolognese sauce actually sticks to it, right? I know it's the goal for me, every time I make it.

Even though it's a small pottle, based on the generous helping I dolloped on my spag bol, there is enough to serve at least 6 portions, so this little pot would easily be suitable for a family gathering of up to 8 persons, if you are careful with your portions.

Overall, this was a wonderful and pleasant surprise for me. While I still don't think I will ever actually LIKE it on its own, I do plan to cook up some more of this dish in the very near future and have some company over to share it with me. I suspect this would work equally as well with some other Italian dishes, based on good results with the Lasagne I made with another variant. I have ideas on Cannelloni with this, or another of the variants. I admit I am curious to try it with Mexican cuisine, perhaps using this in place of sour cream. There are hints it would work quite well, and add some extra depth of flavour to the dishes, while also toning them down a little on the spice-heat scale.
This Review: 8.3/10
Taste:

Texture:

Value for Money:

Personal Choice:
I was excited to try this as I generally love cheese and creamy cheese is always a bit of a winner in our house. I loved the pottle this came in. It is an attractive shape and very easy to open.

For some reason however the flavour of this cheese just didn't sit well with me. I couldn't cope with the smell out of the packet so couldn't have it on crackers. It has a very mushroomy smell that with the texture for some strange reason I just couldn't tolerate. I was making pizza the night after we opened the packet so I decided to spread some of this on my pizza base. It made a great mushroom substitute used in this way. The texture is very smooth and creamy so spread really well and thinly and the flavour was enough to be able to subtly taste but not over powering.

Mr of the house loved this however straight and demolished the container in a few days on crackers and on toast. He thought this had a lovely initial taste but that it was then overpowered by an after taste. This product does list "flavourings" in the ingredients and I think that maybe overpowered the subtle taste of the truffle perhaps? I wouldn't buy this again simply because it just didn't sit well with me initially however I would like to try the different flavours as I wonder if it is just this particular flavour as opposed to the product.
This Review: 9.5/10
Taste:

Texture:

Value for Money:

Personal Choice: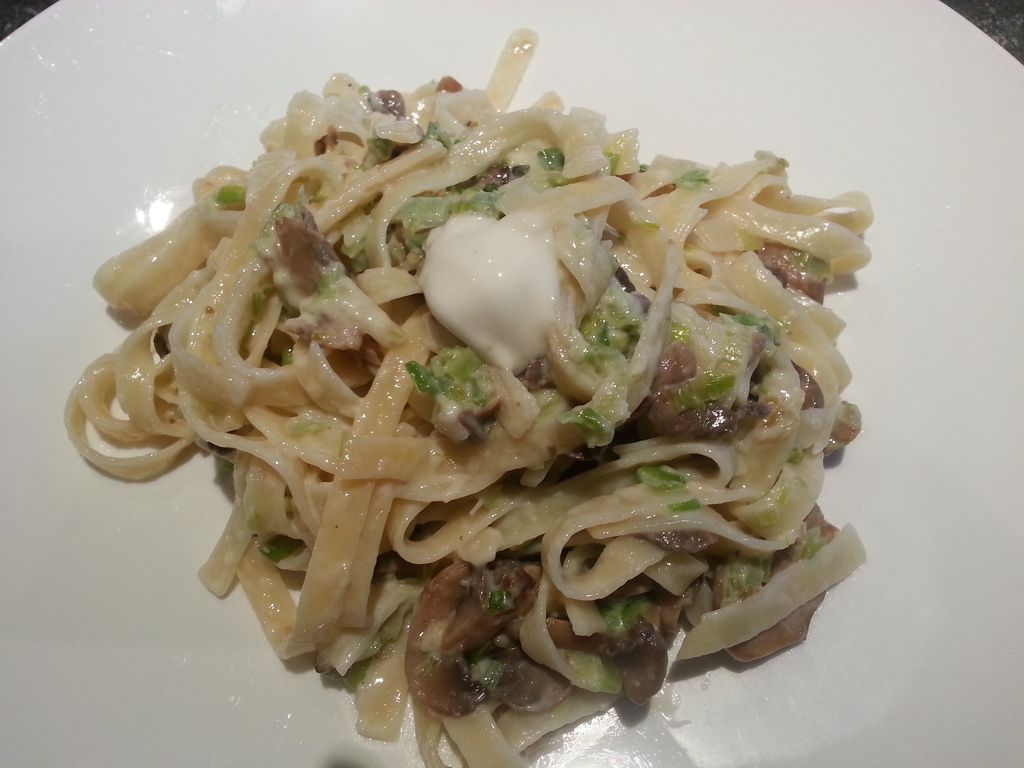 I was lucky enough to be given some of this to review and I was particularly keen to try this flavour as truffle is something that I haven't been lucky enough to taste yet, but watching and hearing about it on various cooking shows has made me keen to try it. This has a very small amount of truffle in it, but I have to say that the flavour was definitely there - well certainly I'm assuming the unusual but pleasant taste I could detect was the truffle.

This is a fairly small container, but I have to say it went quite a long way. I started off by trying it with crackers and I almost gobbled the whole lot just like this - it was delicious! Luckily I only needed a small amount to give a great taste, so after my snack there was still plenty left. In fact I was very pleased to find the cream cheese settled back down so no one could tell I'd been nibbling!

I also tried some stirred through pasta (with mushrooms and leeks) which made a great easy vegetarian meal, and again it had that lovely unusual tang which I put down to the truffle. It actually seemed to leave a weird tingle in my mouth, but it wasn't unpleasant. After making my pasta meal for one, I still had some leftover for more crackers and for spreading on toasted English muffins which was probably my favourite way to eat it.

I have to say that I was very pleasantly surprised at how far this went and so although it isn't cheap, I would consider buying it again as an occasional treat or more likely to use as part of a fancy platter when entertaining.
Random listing from 'Food'...
Product reviews for listing 8075: Farrah's Mexican Fajita Meal Kit -
Brand / Manufacturer Farrah's
Farrah's soft flame baked flour tortillas filled with tasty chicken, capsicum and onion cooked in a mild spice mix of cumin, smoked paprika and other tasty herbs and spices. Roll them up and drizzle over the sauce for a winning family fiesta!

Ingredients:
Flour Tortillas:
Wheat flour, water, ... more...
General Disclaimer...
All trademarks, images and copyrights on this site are owned by their respective companies.
KIWIreviews is an independent entity, part of the ePLURIBUS.nz Network. This is a free public forum presenting user opinions on selected products, and as such the views expressed do not necessarily reflect the opinion of KIWIreviews.co.nz and are protected under New Zealand law by the "Honest Opinion" clause of the Defamation Act of 1992. KIWIreviews accepts no liability for statements made on this site, under the assumption that they are the true and honest opinions of the individual posters. In most cases, prices and dates stated are approximate and should be considered as only guidelines.

"Why does your Obstetrician or Gynaecologist leave the room when you get undressed if they are going to look up there anyway?"
unattributed